Master of the Pit
SMF Premier Member
3,689
1,199
Joined Aug 13, 2015
Good afternoon! I've been making this for a couple of years now but I don't think I've posted about it. It's best on the grill so I only make it spring and summer.
It came from Rytek Kutas's book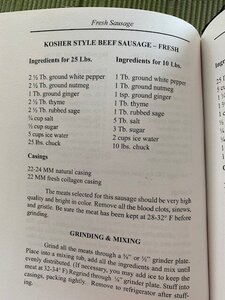 I used 1/2tbls of salt substitute instead of 2-1/2tbls of regular salt and added 1tsp of Accent and 1tsp of #1 cure.
I just used ground 80/20 Chuck and re-ground through a 1/8" plate.
Mixed and let rest in the fridge overnight.
After mixing up again it was time to stuff. I know it called for 22mm to 26mm but I use 34/35mm for just about everything and I have them.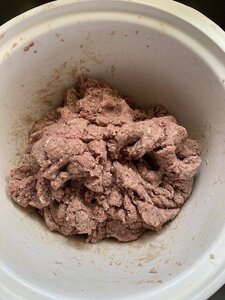 Here's where I mention that I don't know why Rytek uses so much water. I forgot that I use 1/2 cup instead of 1 cup. I probably sopped up 1/4 cup from the counter while stuffing
and the links are really wet. Too wet. I let them hang on the patio for a couple of hours then refrigerated.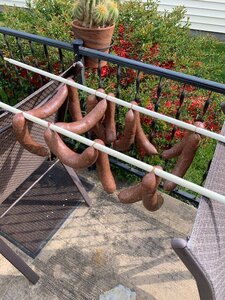 Already coloring up nicely.
They could have dried in the fridge longer but it was a nice day so I grabbed 3 to cook. I used my new cooker and had a pan of vegetables to go with.
I let them get away from me a little and they got past 165F, but they were still juicy with all that water. One sprung a leak and sent a geyser a foot in the air!
The Mrs. wanted hers cut up. I wanted a sandwich...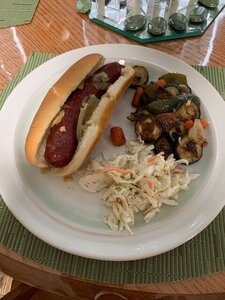 Sorry about the dark plate pic but my food was getting cold LOL!
This morning I vac-sealed the rest.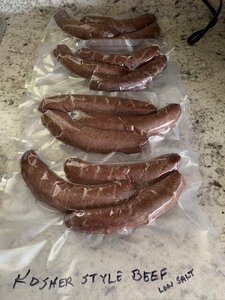 They shrunk up quite a bit after drying and cooking but they're still tasty.
The Nutmeg was strong while mixing and stuffing but mellowed out to just a hint after drying and cooking and the Accent and cure added a bit of "tang".
Usually I don't pay much attention to liquid amounts in recipes and just go with my gut feelings about the consistency. I won't forget next time. Always learning!
It remains our favorite grilling sausage.
Thanks for looking and stuff on!
Dan