Smoking Guru
Original poster
OTBS Member
SMF Premier Member
Jerk Chicken/Pork Sausage " FAIL " with Jamaican Rice and Peas
It was mostly a good process, followed all the steps , all the ingredients and not even any blowouts with my casings.
Did all the measurements, added the right salts , cure#1, But I used a premixed Jerk seasoning that I had to figure on the amounts as it is just a big bottle.
What I did use was already ground Meat
- 851 ml ground pork
- 1330 ml ground chicken
- Total of 2181 ml blend of ground ( 4.8 pounds )
To this I added:
- 5.44 grams of Cure#1, added to 1/4 cup of water and dissolved
- 38.52 grams of salt,
- 11 grams of Cool Runnings Jerk seasoning ,
- 3/4 cup of NFDM
Mixed all by hand , f***ing cold on the hands ,lol
Did a fry test very nice , could taste the flavour , but not strong enough for what I wanted so I added another 7 grams of Jerk seasoning
than mixed again, than into the fridge for the night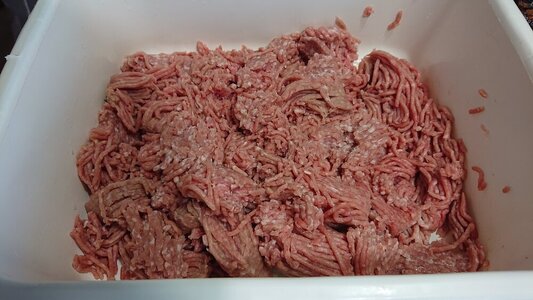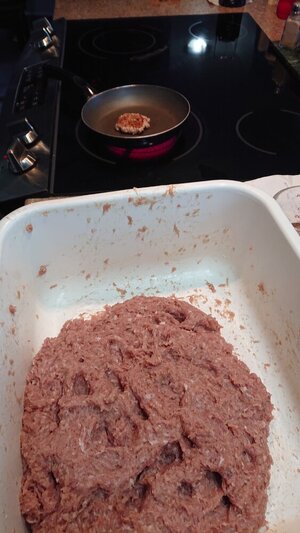 Next day pulled out the stuffer and my casings that have been soaking in the fridge for a few days . Washed rinsed many times .
Pulled out 2 casings and stuffed away.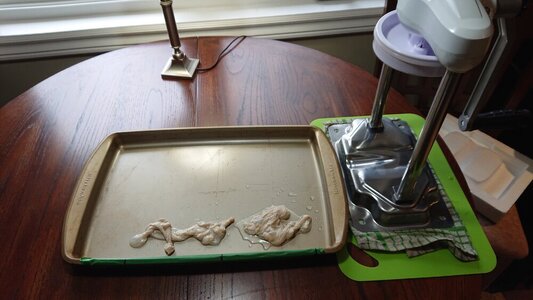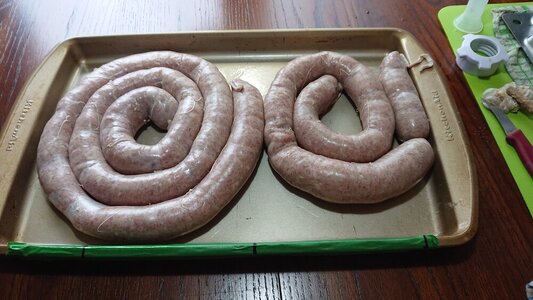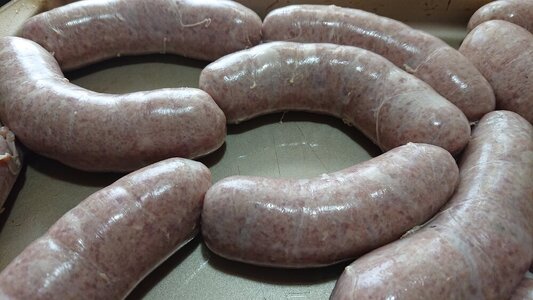 They stuffed well but did notice they were coming out with a little more air in the casings than before ( now in saying this , this is only the second time for using the stuffer for sausages. For my potato sausages I stuffed by hand. )
So I pricked the sausages to let air escape . The little bit of meat in the horn and bottom of the stuffer was fried up again, taste is better. Let sit in fridge for an hour while I got the smoker rolling.
Removed the racks so I could hang the sausages. First hour had smoker at around 148 . using the pellet tube with Hickory.
after 2 1/2 hours layed the sausages on a rack as I noticed that they were touching and that was making areas that were not getting colour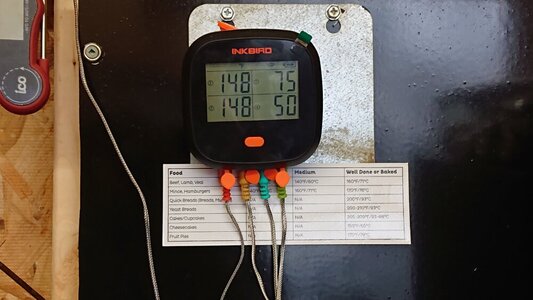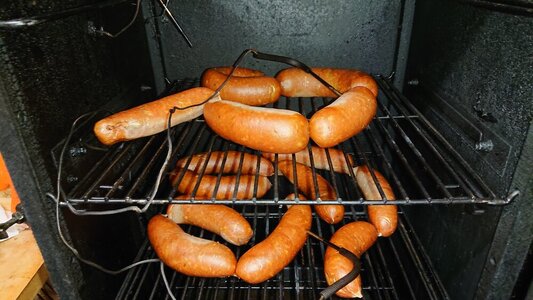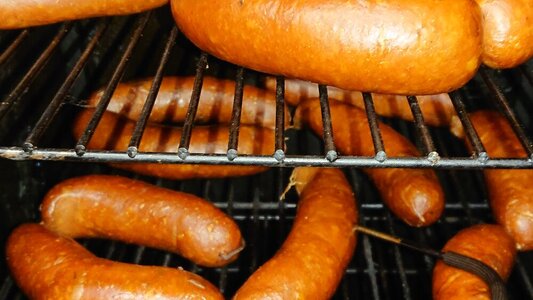 Looking good and nice colour, It-124 deg. moved the temp up to 165 deg.
Total smoke time was about 5-6 hours
Pulled the links out when they got to 151-IT, into the ice bath for 45 minutes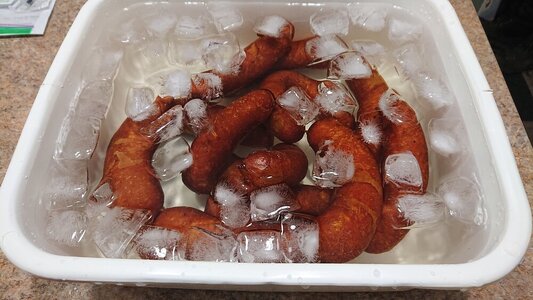 once that was finished I dried them off and into the fridge to bloom. But I kept 2 out to fry and eat.
This is when I really noticed they are very tight not as juicy as I thought and the flavour was not really there anymore . There was no run off or dripping in the smoker
The texture is more like salami or pepperoni no real fat /juice .
So I fried some up in the cast pan, made some nice Jamaican Rice and Peas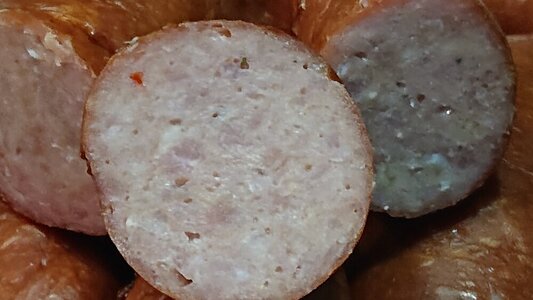 The Rice and Peas with a shot of lime juice , were great , but the Jerkless sausages VERY disappointing
So my conclusion is a couple things as I had a good mix to the meat it stuck to hand nice . But I think I mixed it too much and
made it too tough. And in using the store ground meat , not enough fat content ...Too lean.
But as for the spice profile . I do not know where it went. Because with the 2 fry tests it was better by the second one.
I guess I need to cut and grind my own meat ( guess i need a power grinder , not going to use my hand grinder for this stuff )
Not mix so well and figure the spice thing out. The seasoning was the first time for me to use . Maybe next time use my own jerk paste/sauce I make . I just thought it would make it too runny
Thanks for looking, if you have any reasons please let me know , and I will try to answer any follow up questions on how I did this and what I should change .
Thanks everyone , I tried to follow the way you guys sat to do. so thinking it is the meat and the mixing. Just do not know where the spices went
David