5,968
1,020
Joined Sep 25, 2007
Jambalaya
September 30
th, 2017
This past weekend I had to stop up to our trailer for some maintenance, since I was staying the weekend I figured I would make some Jambalaya for Sunday dinner at home and some lunches during the week.
There is something therapeutic about cooking outdoors in a dutch oven, especially a stew or jambalaya type recipe, no worrying about ingredients and cook times, just slice, dice, cook and enjoy, no pressure.
Ingredients
4 tablespoons butter
2 tablespoon vegetable oil
8 skinless, boneless chicken thighs cubed

1 pound andouille sausage, cubed, I used Chorizo

6 ribs celery and leaves, chopped
1 large yellow onion, chopped
2 green bell pepper, seeded and chopped
5 cloves garlic, peeled and minced or pressed
1 28-ounce can crushed tomatoes
1 can of Rotel
1 can diced tomatoes.
32 oz. chicken stock
2 tablespoons Creole seasoning
4 bay leaves, didn't add
4 cups rice

2 pounds 26-30, peeled, deveined and tail off

2-3 green onions/Leeks, chopped
Instructions
Melt 2 tablespoons butter and vegetable oil in large dutch oven pan over medium high heat. Add chicken breasts and Andouille sausage (I used Chorizo sausage because thats all I had, but I prefer Andouille) cook for 10 minutes, stirring occasionally so all sides are lightly browned and the chicken is cooked through.
Lower heat to medium, add the celery, onion, Leeks, bell pepper and garlic. Cook for 10 minutes or until vegetables soften. Add crushed tomatoes, diced tomatoes, chicken stock, creole seasoning, bay leaves and Rotel. Cook for 30 - 60 minutes then add rice and cook for about 30 minutes. Add shrimp and cook until shrimp are cooked through. Optional; Garnish with green onions.
Chorizo, Chicken thighs, oil and butter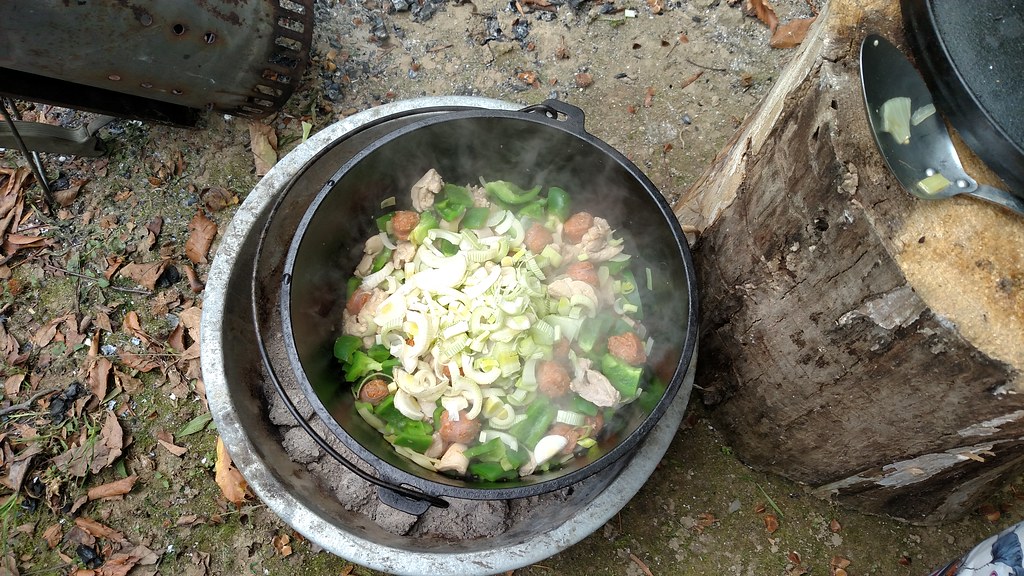 Some Jambalaya is removed for the family members allergic to shellfish. I needed to make room too!
...and dinner is served.
Cleanup, I had to come up with a way to clean the DO, I usually have a scrubbie (no soap) that I use but had to figure another way.