Legendary Pitmaster
Original poster
OTBS Member
★ Lifetime Premier ★
Yes people it's a reoccurring request at the Relleno's House, Italian Night!
Tonight's Menu
Antipasto Salad
Pan Seared Chicken with Italian Herbs
Linguine Pasta with Lemon Parmesan Cream Sauce
Shrimp Scampi
Dole Plantation Whip
Antipasto Salad
A colorful and superbly tasty antipasto salad.
Pepperoni and Cacciatore
Artichoke hearts, roasted red pepper, red and white onion, three types of cherry tomatoes, Kalamata olives, Peperoncini peppers and goat cheese
All spread over a deep bed of spring greens, topped with a red wine vinaigrette.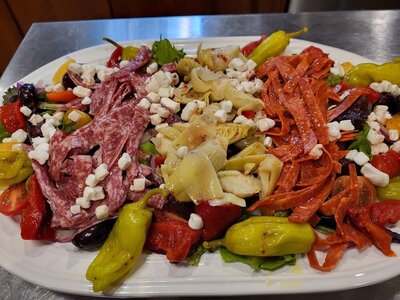 Pan Seared Chicken with Italian Herbs
Linguine Pasta with Lemon Parmesan Cream Sauce
Shrimp Scampi
Lemon Cream Sauce, with or without Capers 2c heavy cream 6T lemon juice 4t lemon zest (As given the sauce is fairly bold on the lemon, for a milder lemon tang use a third less juice/zest and/or add another cup of cream.) 1T lightly crushed *Capers (optional) (lightly crush capers with the back...

www.smokingmeatforums.com
Tonight I added a cup of grated Parmesan cheese to the sauce.
Boneless skinless breast wet brined for 12+ hours, then fried hot-n-fast in some EVOO.
A fairly traditional Shrimp Scampi
1-1/2lb of 26/30 count shrimp
Melt half a stick of butter, toss in a heaping tablespoon of finely minced onion and the same of minced garlic.
Add shrimp and saute till they just start to turn pink.
Then add in 1/2c of white wine, scatter some freshly chopped Parsley and a little salt.
Cook another 30 seconds and plate.
Dole Plantation Whip
This was my substitute for Italian Ice.
It didn't last long enough to get any pics, and I had to fend off the family long enough to get my own bowl.
1-1/2c Vanilla ice cream
1 20oz can of Dole Pineapple chunks in 100% juice
Strain juice and save, freeze the chunks, use both in blender
1T lime juice
1/4t salt
Combine everything in blender and blend till smooth.
Serve immediately or return to freezer for 30-60 minutes to harden up.
Makes two nicely sized servings.
My Plates... Yes, plates, too much goodness to be held on one plate.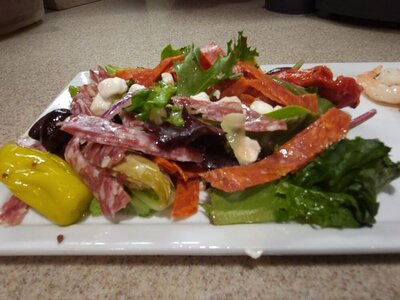 Last edited: