So many people love a good holiday ham. My family gatherings are so large that we have ham at both Thanksgiving and Christmas along with whatever dishes other people bring. No food is wrong to in addition to the traditional ham and turkey dishes.
This is a very detailed "How To" on making an amazing, yet simple Holiday Ham using the very affordable Pork Shoulder/Pork Butt/Boston Butt cut of meat instead of the giant less available pork back legs.
The flavor and texture is no different than ham from the back leg. This approach simply makes doing a ham yourself a very possible reality! :)
Summary:
To make this ham you must:
Measure and Mix up the liquid Cure (this makes ham taste like ham and not a pork roast)
Cure for 5-7 days
Smoke & Cook the Ham
I will break down into the following sections to cover Equipment, Ingredients, Cure Measuring Process, and Smoking & Cooking Process.
Heads up, there is some minor addition involved and some conversion from pounds to grams involved to figure out the amount of ingredients needed.
Good news is I provide a link to a good online calculator. If you are intimidated with numbers or uncomfortable with them then the calculator should help but if it doesn't then you can simply buy about an 8 pound pork shoulder and follow my numbers provided below :)
Calculator
:
http://www.diggingdogfarm.com/page2.html
What You Need
Equipment/Tools/Containers:
Blender
Measuring Pitcher or Measuring Cup for water (either works)
Marinade Injector Syringe (I get mine from Tony Cachere's brand injectiable marinades and just keep and reuse it but any marinade syringe will work)
Food Grade Bucket can hold 3 gallons or more (my bucket was from a supplement product that held 12 pounds of powdered supplement so I saved it for these tasks)
Food Scale that can measure grams
Refrigerator with room to hold the bucket and shoulder for 5-7 days
Smoker and Meat Thermometer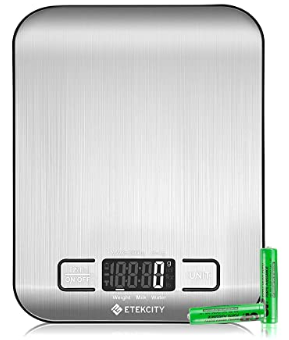 Meat and Ingredients:
1 Gallon of Water
1 - Pork Butt/Pork Shoulder/Boston Butt (all the same cut of meat)

Note: I recommend 8 pounds or less if you plan to make it before the holidays, vac seal and reheat for the meal. Over 8 pounds is so large that they cannot fit in the big vac seal bags and you have to cut about 1/3-1/4 of it off to fit in the bag

Cure #1 also known as Prague Powder #1 (this is required to get the ham flavor and texture, if you omit you will get roast pork not ham)

Note: in the USA it is 6.25% sodium nitrate. In other countries you may have different measurements but this assumes 6.25% sodium nitrate and 156pp being used to cure

Salt
Sugar or Splenda/Sucralose (the conversion ratio between the two is, 0.125 gm of Splenda for every 1 gm of Sugar)
Whole Clove (optional but helps give great flavor)
Whole Star Anise (optional but helps give great flavor)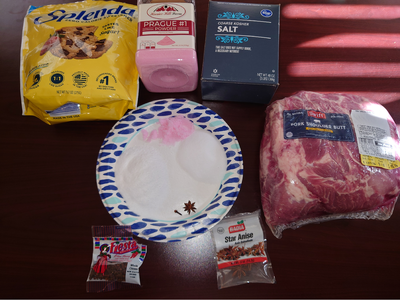 Cure Measuring, Mixing, and Curing Steps:
You must use Cure #1 (Progue Powder #1) at 6.25% nitrate and 156ppm. If you are in the USA just buy a cure #1 salt and you should be fine. If not in the USA then make sure to adjust your nitrate level and hit 156ppm (not a trivial task).
If you don't want to calculate your cure and ingredients then buy a pork shoulder that is 7.8pounds-8.2pounds in size and use these numbers:
1 Gallon of Water
about 8 pound Pork Butt/Pork Shoulder/Boston Butt
Cure #1 or Prague Powder #1 - 18.5gm
Salt - 109gm
Sugar - 74gm (or use 9.4gm of Splenda/Sucralose)
1 Whole Clove (optional)
1 Whole Star Anise (optional)
How to Calculate for any weight of Pork Shoulder:
This will allow you do any amount of pork shoulder
1-Gallon of water weighs 8.35 pounds which is 3787.5gm (grams makes math easy for measuring)
Weight your pork shoulder and convert to grams. Mine above was 7.990 pounds which is 3624.2gm
Get Total Weight= water weight + pork shoulder weight

Total Weight for the pork shoulder listed above = 3787.5gm + 3624.2gm = 7411.7gm

Easy Mode Time: Use Digging Dog Calculator to convert pounds to grams and easily calculate the amount of Cure#1, Salt, and Sugar needed for your ham.

Calculator: http://www.diggingdogfarm.com/page2.html
Enter Total Weight into "Weight of Meat in Grams" (Use total weight not meat weight, you have to calculate for total weight)
Change "Salt % Desired" to 1.7
Click "Calculate the Cure" button to get amounts needed for Cure #1, Salt, and Sugar


Measure out your Cure #1, Salt, and Sugar values given by the calculator
Add to Blender and blend until dissolved fairly well:

24 fluid ounces of water (room temp NOT HOT! Water too hot will kill the cure #1)
Cure #1
Salt
Sugar

Pour liquid from Blender into the Food Grade Bucket
Pour remaining 104 fluid ounces of Water into the Food Grade Bucket and mix liquid around a bit
Add 1 Clove and 1 Star Anise to Food Grade Bucket
Add Pork Shoulder to the Food Grade Bucket

Mandatory Step

: Use the Marinade Injector Syringe to draw the liquid from the bucket and inject liberally into every side of the Pork Shoulder about 1-1.5 inches apart (you cannot overdue this so go wild; you must do this step because the meat is too thick for cure #1 to travel all the way to the center on it's own)
Prevent the pork shoulder from floating by weighting it down. I used a sealed gallon ziplock bag with water and ice and placed it on top to keep the pork shoulder submerged.

Cover the bucket and put in a fridge and leave for 5-7 days (I use my garage fridge for this)

After 5-7 days the Pork Shoulder is cured and ready to smoke/cook. Injecting all over greatly speeds up cure time and is mandatory.
Smoke and Cook the Ham:
After 5-7 days of curing the Pork Shoulder is ready to Smoke and Cook (smoking and cooking happens at the same time)
Pull the cured Pork Shoudler from the liquid and discard the liquid. There is no need to rinse the cured Pork Shoulder but if you just can't keep yourself from rinsing it then that will be fine hahaha.
Smoke at 275F degrees (135C degrees) and apply smoke

For Smoke, I go 65% Hickory, and then equal parts Cherry and Maple for the rest of the wood

The Pork Shoulder Ham is done when it hits anywhere 150-160F degrees Internal Temp (65-71C degrees)

I prefer 150F/65C over higher temps, and it may take approximately 1hr 5min per pound to get into the ball park of these temps so estimate 1hr 5min per pound + 3 hours to hope you finish in time to eat. If you finish early just tightly double wrap in foil and tightly wrap with 3 bath towels then set it on the counter/table for later. It should hold for 2hrs or more and be ready to slice and serve when you unwrap.
Note: if you are not in the USA , or you have pork micro parasite concerns then cook to minimum 165F/73.9C degrees Internal Temp to ensure the meat is safe for consumption
Pork Shoulder Ham should look like the following: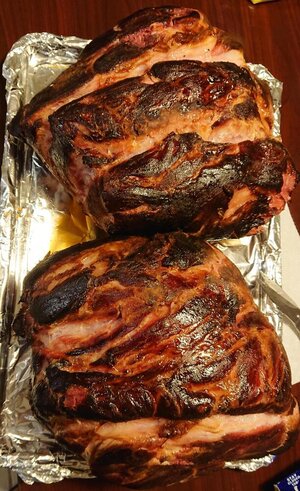 If you made it this far then I congratulate you hahaha :D
This should cover making a Ham from a Pork Shoulder and this works for actual pork back legs as well but those are harder to come by and often more expensive throughout the year where Pork Shoulders are often on sale for great prices.
Happy Holidays and best of luck on your Ham! :D