154
35
Joined Nov 6, 2014
I searched around high and low and couldn't find a tutorial on how to build a mailbox mod - even there there are lots of photos of everyone's mailbox mod (and you have to piece all of them together to figure out how to build one. Yeah, they're pretty simple, but I thought I'd try and put together a sample build. Since I got all my parts at Menards, I'll give part numbers to make it easier for those with Menards (and for those without a Menards, you can at least see the parts I used).
Parts needed:
metal mailbox (please don't use a plastic one) - SKU 2156924 ($9.79)
2x 30-gauge duct elbows - SKU 6392916 ($2.51 each) (I actually used an adjustable elbow, but since I also used a flexible pipe, a non-adjustable elbow will probably work better)
2x 3" hose clamp - SKU 6790641 ($1.53 each)
3" x 8' semi-rigid aluminum duct - SKU 6399249 ($8.99)
Aluminum Foil Duct Tape (optional) - SKU 1613250 ($6.99)
Step 1: Trace outline of duct elbow onto rear end of mailbox (I had to draw outline twice since first effort was way off center). Drill pilot hole within outline.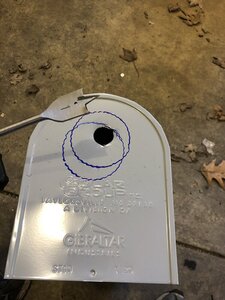 Step 2: Use tin snips and cut out outline - it's better to cut outside the line than inside the line.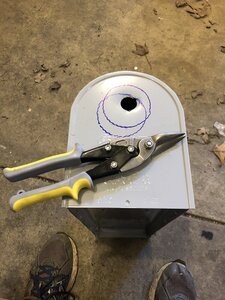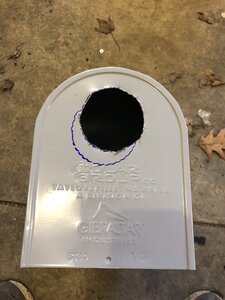 Step 3: Cut slits into end of duct elbow, and bend every other one up so it's 90*.
Step 4: Insert clipped end of elbow into mailbox, and bend tabs inside the mailbox so they are against the back wall of the mailbox.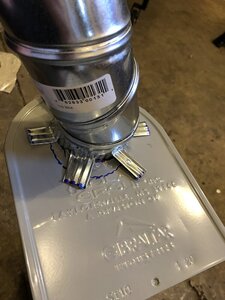 Step 5 (optional): Tape elbow to the mailbox.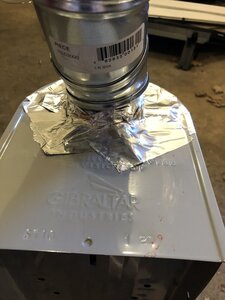 Step 6: Attach flexible duct tube to elbow with hose clamp (and aluminum tape).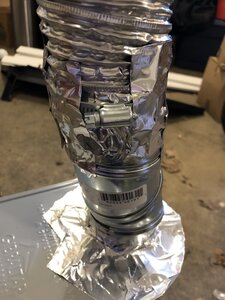 Step 7: Attach second elbow to opposite end of flexible duct with hose clamp (and aluminum tape). This is the end that is inserted into chip opening in MES 30/40.
Finished mailbox mod: