Epic Pitmaster
Original poster
OTBS Member
★ Lifetime Premier ★
Dec 14, 2013
15,161
13,432
Got inspired to make up some Lasagna yesterday . This is how it went .
Start with some home made Italian sausage .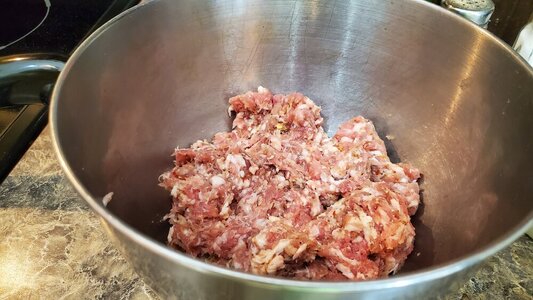 Brown off in a pan .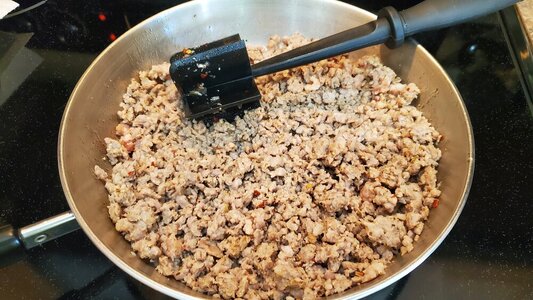 Then get the sauce ready .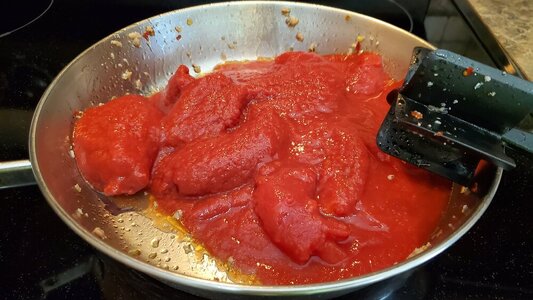 The meat stomper gives the perfect texture .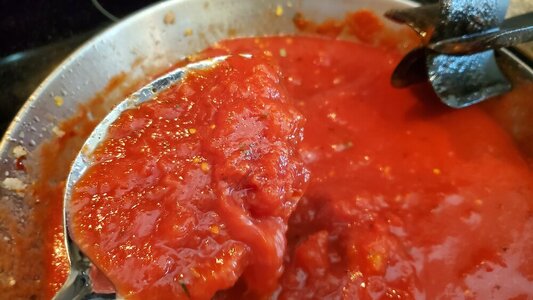 Set both aside to cool .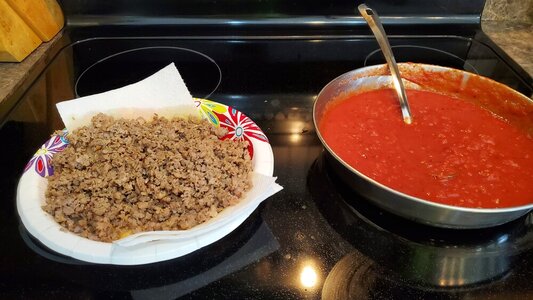 Time to make some pasta . I've done it all different ways , and still haven't tried them all .
If you look for pasta formulas you know how many variations there are .
This is were I've settled in . It makes a silky smooth pasta with great chew .
Had around 1 1/2 pounds of flour . 75 / 25 Dbl. zero to semolina .
3 whole eggs . Will see if it needs any water .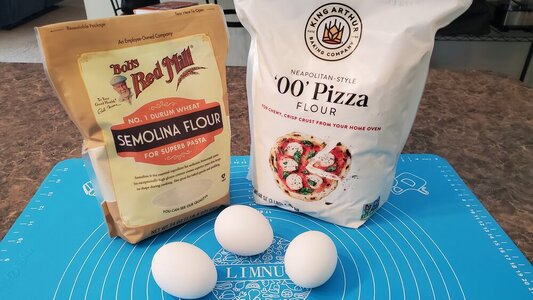 That blue silicone mat works perfect for this . Started with 2 eggs .
I use a fork to start out .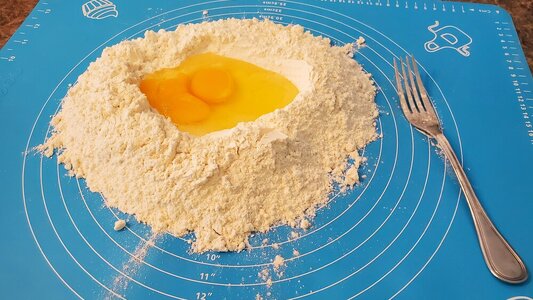 Mix the 2 eggs in . This will be pretty shaggy . That's ok .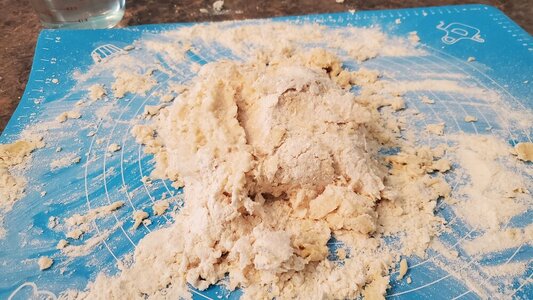 Added the third egg and mixed some more .
Starting to come together .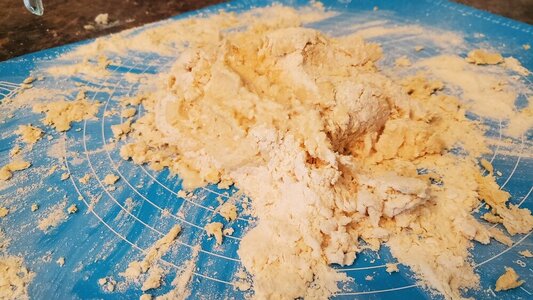 I added some warm water by the TBLS. to bring it together slowly .
Keep kneading until it picks up most of what's on the mat .
Cut in half and wrap in plastic . Into the fridge for at least an hour .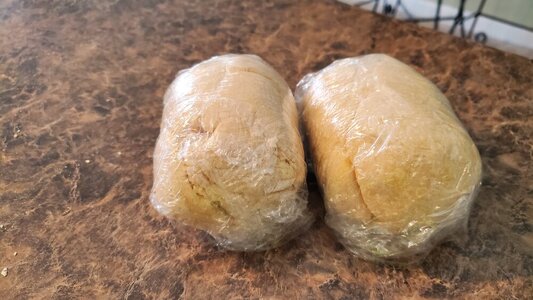 Time to roll some dough .
The Marcato Pasta machines are top of the line . I have the Atlas with removable cutting head .
They make other profile / shaped cutters you can use .
After resting in the fridge the dough comes together .
Press it out flat enough that it will pass through the roller set to 0 .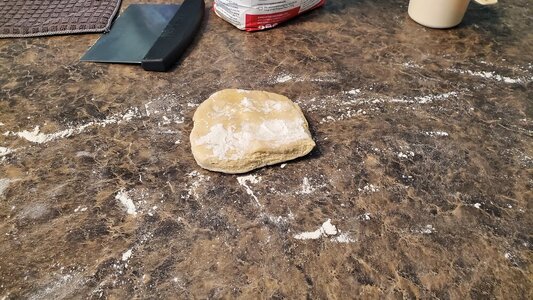 Pass through one time , and fold in half .
Turn 90 degrees and re-roll , still set to 0 .
The 90 degree turn helps control the shape of the ends .
Square , not pointed . I fold and turn 3 times .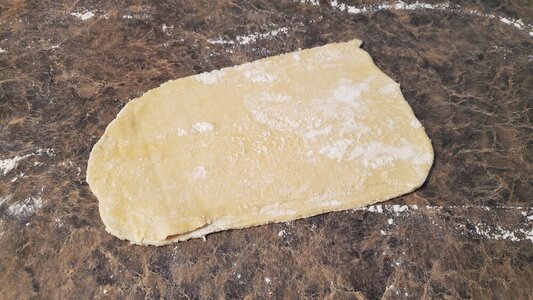 From this point I go through one time , adjusting the rollers until
I reach 5 . That's a good thickness for this . Ravioli I'll g0 to a 6 .
Done right it should grow in length , not in width .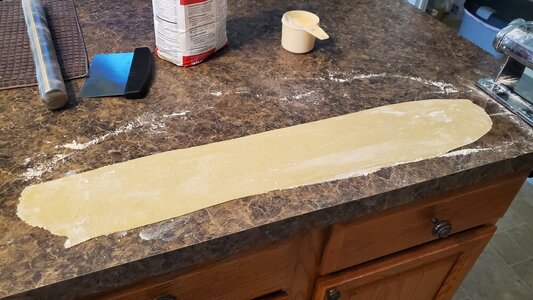 About 3' of perfect pasta . No ragged edges is a good sign .
I decided to go ahead and par boil the sheets . Sometimes I use it as is , because it cooks in the dish .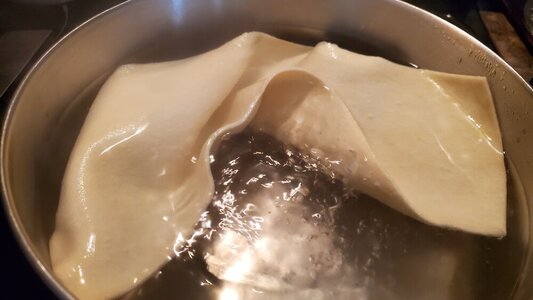 Hold on some paper towels to cool .
I use cottage cheese in my Lasagna . Never cared for the texture of Ricotta .
I add a raw egg into the cheese and mix it in .
Gives it some height when it cooks and helps to set it when it cools .
You know the rest , just get it layered up . I like to do 3 layers
including the top .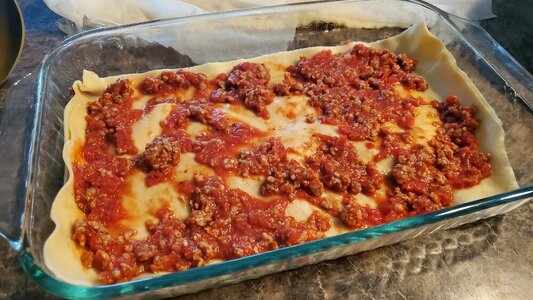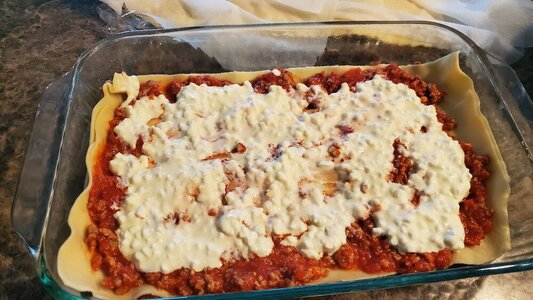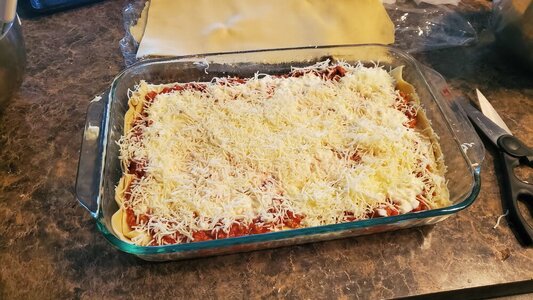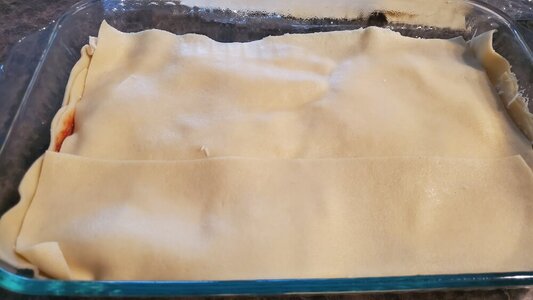 Baked covered at 350 for 1 hour .
set oven to 425 and bake uncovered until you like the color .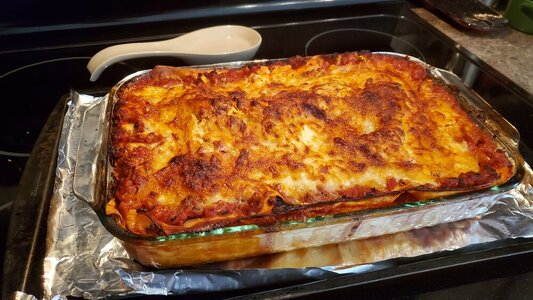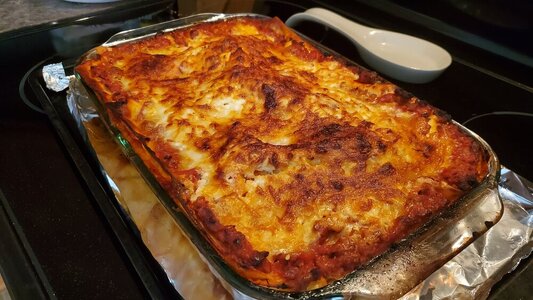 Cool for an hour or more . The egg helps hold it together , gives it height
and makes a nice slice .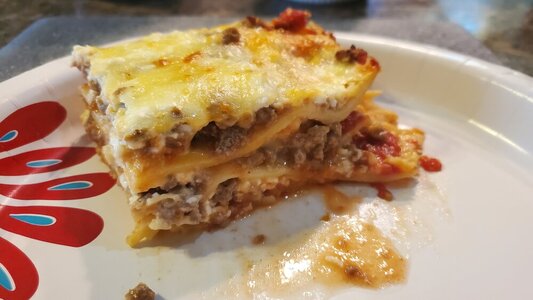 Thanks for lookin .
Last edited: