Master of the Pit
OTBS Member
SMF Premier Member
1,708
1,696
Joined Mar 8, 2017
This one came out so perfect, I had to share. Last couple pastrami's I did, I wasn't happy with. Even though I finished with steam, I overcooked them and they didn't hold up to slicing. Not to mention the last one, I dropped on the ground, had a pan collapse. And it fell all up in the mud so not even salvageable.
Well this weekend we had a huge cook, and I had a brisket that had been curing for 11 days. It was time for redemption! I did a dry cure, using the digging dog bacon calculator @2.25% salt. Plus I added 1/8 cup pickling spice, garlic powder, onion powder & black pepper.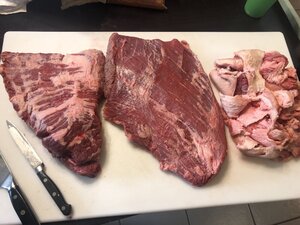 here's my brisket all trimmed and ready for the cure. Both point and flat were really nice. I didn't get any pics of it in the cure, but I put both point and flat in same bag, evenly distributed cure and seasoning over each side, then flipped and massaged the bag o meat daily. After11 days, I took it out of the cure, rinsed it off and placed it in the fridge to dry out a bit. Then I rubbed it lightly with mustard, and my rub which is black pepper, coriander, garlic, paprika.
all ready for the smoker. I used pecan wood and smoked at 250 for 7 hours. I pulled the pastrami at 185 internal. This was my plan. I wanted to wrap it in foil, rest it until I went to bed, then toss in the fridge overnight. I just felt like a little less cook time would give me the texture I wanted. I was right!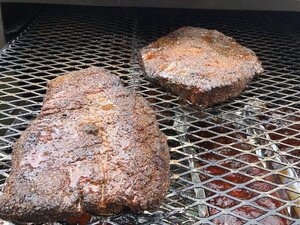 I got one pic of it on the pit.
and right before bedtime, we had a late night snack... hot pastrami!! I couldn't wait until tomorrow...strami sammys for dinner!
So today was the day. Slice all the pastrami and Jewish deli for dinner. I got some nice fresh Jewish rye, and boars head baby Swiss and aged Swiss.
Pastrami all sliced up. The berkel makes that much easier. And stopping the cook at 185 was perfect.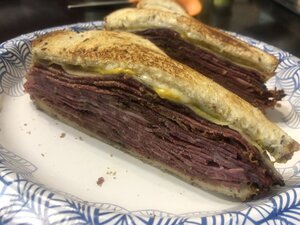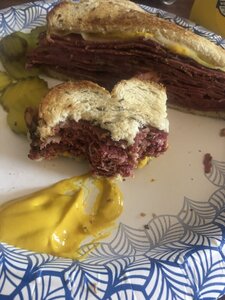 and my dinner....I could only eat half but it was out of this world. I know what Im having for lunch tomorrow!
Last edited: