This one was a huge hit last night.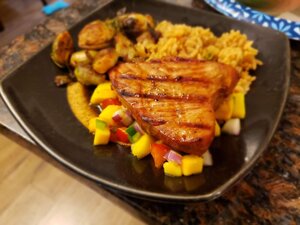 Marinade for the tuna (from ALDI, it's on sale this week) was:
1/2 cup tamari (or soy sauce)
2 Tbls sesame oil
1 Tbls minced garlic
1 finely chopped green onion
2 Tbls brown sugar
Add everything to a gallon zip-lock and agitate until sugar is dissolved, then put the tuna fillets in, evacuate the air in the bag, and let rest in fridge for at least 4 hours. I did 12 hours.
Brussels were prepared by slicing in half, placed on a sheet pan and generously salted about 3 hours before cooking. They then got added to a screaming hot cast iron pan on the side burner of my Char-Griller Duo with a bit of olive oil. After they got a few minutes of searing, i moved them over to the gas grill on the upper rack to finish, I later added about 1/4 cup of the tuna marinade.
Tuna was placed on HOT grates to get good sear marks and turned a couple times during cooking to help the sear marks and to cook through. My wife and kids don't like rare tuna, and I don't dislike tuna cooked fully...so this round I didn't cook mine shorter than theirs.
Mango Salsa:
2 Mangos, seeded and diced
1/2 small red onion finely diced
1/2 red pepper finely diced
1 jalapeno, de-veined, seeded and finely diced
juice of 1 orange
juice of 1 lemon
combine all in a bowl and mix well, add 1/2 tsp salt and let it sit in the fridge to get happy. I made this about an hour before starting the grill.
The rice is just Uncle Bens Microwave rice, teriyaki flavor.
Last edited: