Smoking Fanatic
Original poster
Well its late in the evening, but I am spending my Saturdays putting an HVAC system in a traditional log cabin. So this evening I am smoking a pork tenderloin stuffed with bacon, smoked Gouda, Kalamata olives, onion, diced red apple, and sweet banana pepper relish.
First we add our chopped onion, apple, and some garlic in some olive oil to the cast. Now this was my leftover breakfast bacon, but if you are doing fresh then chop your bacon pieces and saute it first to render and eliminate the olive oil.
Now the rest of the filling ingredients.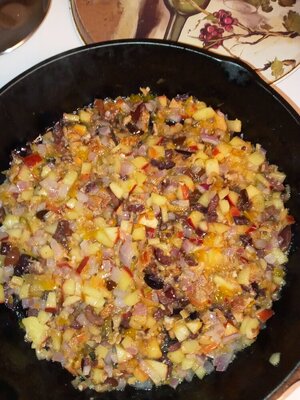 Flatten the loin. I use a combination of filet slicing and cubing hammer to accomplish this. Topped with 6 slices of smoked Gouda and the filling.
Now roll the loin carefully keeping the filling from squeezing out. and tie it with butchers twine. I run 1 tie around the length and then tie around it multiple times.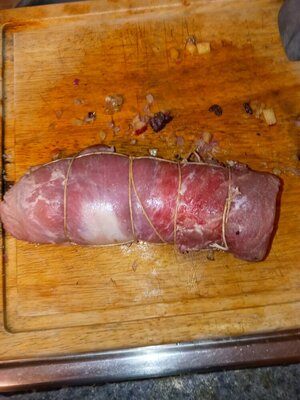 Onto the pellet pumper at 250f long enough to give a slight smoke flavor and then I will turn it up to 350f to finish. I'm shooting for a 145f internal Temp. Oh some pear brandy on the rocks. I could tell you how I made it, but I like not going to jail. Oh so good.......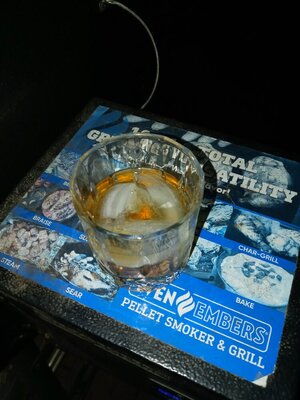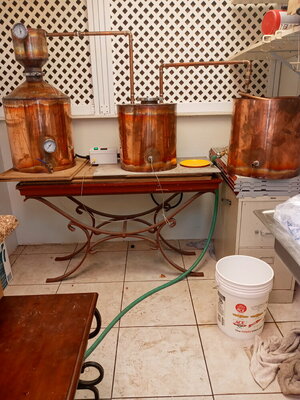 Shhhh don't tell anyone about my small electric rig. So 35 min at 250f we have color and increasing temp to 350f.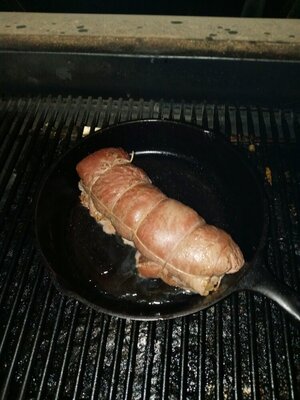 Added some seasoned green beans / potatoes to the pumper. We have hit 140f IT and will pull to let it rest. My rule of thumb is to pull the meat 5 degrees lower than desired IT and it will continue to rise.
Now this is when you grow patient waiting on the IT to fall enough to slice. I have glazed it with duck sauce. This is my favorite sauce for this recipe, and any good kitchen has duck sauce in it. I have also removed the ties.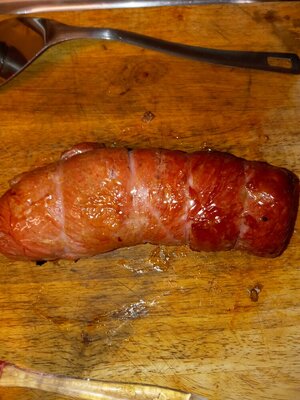 Plated and enjoyed.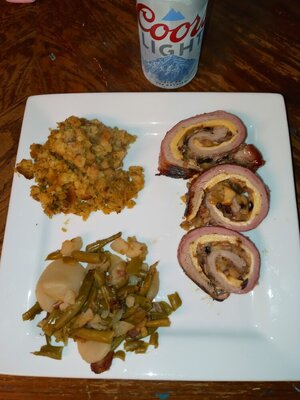 Thank you for reading.