1,327
434
Joined Jan 30, 2018
I'm going to be smoking a pork butt tomorrow for game day. I'm expecting a couple of great games. I've got this 7 1/2 pound Boston butt.
I'm going to try rubbing it with this Pit Boss rub that I picked up today at Walmart.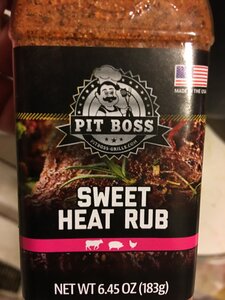 This will be my first low and slow on the Weber Kettle. I plan on using a snake along with my vortex which will be inverted. I'll do pictures as I go tomorrow. It's been months since my last pork butt so I'm really looking forward to this. My wife is going to make her famous baked beans and macaroni salad. There will be coleslaw for the sandwiches and we will be using hamburger buns for the sandwiches as well. Enjoy your evening everyone and let's all hope for some excellent football tomorrow.
G