Legendary Pitmaster
Original poster
OTBS Member
SMF Premier Member
Fondant Potatoes aka Pommes Fondant
For best results Fondant potatoes are best done with a large starchy potato like Russet or Idaho.
The starches soak up the butter and broth yielding a smooth creamy texture inside full savory goodness.
Peel the taters and cut them into rough cylinders with flat ends, all about the same height, I went about 1-1/2" - 2".
I trim each end off an average sized potato and then cut it in half, two nice pieces.
You'll need 2-4 pieces per person.
Preheat your oven to 350°, and grab an oven safe frying pan, e.g. 12" cast iron.
You should be able to cook enough for six people in a 12" pan.
Over high heat, add some some type of fat/oil (bacon grease is my choice) and fry them hot and fast like a scallop on both sides till beautifully browned and crisp.
Reduce the heat to med-low and add a very generous amount of butter (3/4 to 1 stick) and several sprigs of either fresh thyme or rosemary.
Also add some chopped garlic.
Saute for another five minutes, while shaking and tilting that pan, splash that flavor around.
Be sure to spoon some over the tops too and then hit them with plenty of salt and pepper.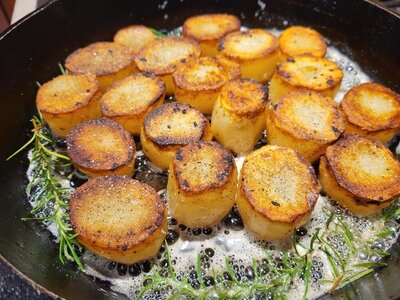 Now add some vegetable or chicken stock, about two thirds of the way up the sides of the taters and then transfer to the preheated oven to cook.
In about 30-40 minutes they'll be tender, and they'll have soaked up most of that butter and stock.
It's hard to overcook these.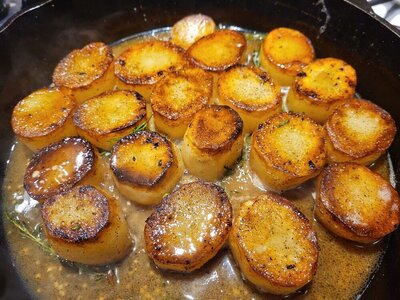 Spoon what's left across the tops again and serve.
Be prepared to say, "Wow, these are fantastic!" and listen to the compliments.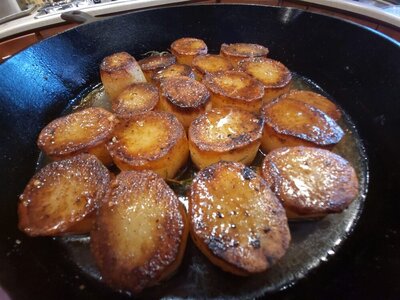 As for all those leftover slices of tater from trimming these down? Save them and cook fried taters for breakfast.
Last edited: