22
30
Joined Mar 25, 2014
I was planning on feeding 29 people, and didn't want there to be a shortage of beef so I ordered a 19lb brisket from my local butcher.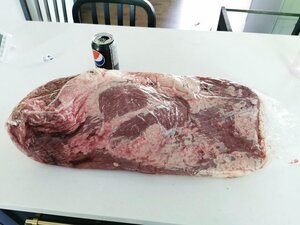 I followed Aaron Franklin's tutorial on Youtube pretty carefully, and tried to mimic everything he did. I had a little bit of trouble with the big Mohawk at the top there, and it was killing me to trim it down to a reasonable height. I ended up trimming a total of 4lbs off the 19lb Brisket, and figured that 15lbs across nearly 30 people had better be enough.
Here's the brisket all trimmed, seasoned with 50/50 salt and pepper.
I set my GMG temp to 225, and placed the brisket at 9:15 PM for an overnight cook. I figured an hour per pound cook time would take me to 12:15 the next day or at the very most, an hour and 15 per lb which would mean the brisket could be pulled and still rest in time for supper which was planned for 6pm. The last thing I wanted was for this brisket to be underdone and people rolling in, so I erred on the side of being done too early.
What I DIDN'T expect, however, was that at 8:30 the next morning the brisket temping 203 on the probe-tender point and 195 on the nearly-done flat. In just under 12 hours, my 15lb brisket was very nearly ready to pull.
I searched this forum for "What to do if your brisket is done way too ****ing early" and decided that the best bet for me to enjoy my golf game (because of course I had booked a 9AM tee time) but not dry out my brisket was to wrap it in foil and pop in the oven at 170F (its lowest temp). At about 1:00 I texted my wife to turn off the oven but leave the brisket in it, and when I returned home at around 1:30 I took the brisket out (Temped it at exactly 170 degrees after a 3 hour stay in the oven) and wrapped it with every towel I could find before throwing in a box and transporting over to my parent's place where we were all meeting.
6:00 came and I pulled the brisket out, unwrapped the foil and temped the brisket: 140-143 all over. Perfect!
I sliced the entire thing and we served the food buffet-style so as to limit any type of COVID-19 risk. This way I was able to control the portions as I was still slightly worried about having enough meat to go around.
My observations:
I cooked the brisket fat side up, but next time I'll probably do fat side down so as to protect the bottom of the brisket a little better.
I think my grill may be cooking at a higher temp than it should, as there were a few charred bits on the bottom that I had a little tougher of a time cutting through with my new brisket slicer. I can't imagine this happening if it was truly running at 225, so it would also explain why the brisket was done so quickly.
Pull test was great, the point was perfect and even the flat came out pretty juicy. For a near-disaster I'd have to say I was pretty happy with how it turned out.
The bark was great, and even though having to pull early and wrap in foil for 5 more hours than I expected ruined my expectation of what the bark should've been, it had set nicely and was delicious. It's weird how salt and pepper ONLY can end up tasting like so much more on a brisket.
I'm not nearly as intimidated by brisket as I was before. I can't wait to take another crack at it and maybe try wrapping, and doing burnt ends.
[youtube]