Master of the Pit
Original poster
OTBS Member
★ Lifetime Premier ★
I started out early Sunday morning by injecting an 8.5lb pork butt. Now, I usually don't inject butts, so I wanted to give a try.
I used just a basic injection consisting of:
3/4 cup of apple juice
1/4 cup ACV
1 Tbsp Worcestershire sauce
2 Tbsp melted butter - not margarine.
3 Tbsp rub - BGE Savory Pecan
Injected, wrapped tightly, and into the fridge for 8 hours. The injection really pumped up that butt.
After 8 hours in the fridge, applied yellow mustard for the binder and applied the rub which was a 50/50 blend of Blues Hog Sweet and Savory and BGE Savory Pecan. Back into the fridge while I get
the kettle
set up.
Used the SnS in
the kettle
with a full water trough, Kingsford Original Briquettes, applewood chunks, and a pan underneath to collect the juices.
Here's a couple pics after placing the butt on the grate at 4:30 PM.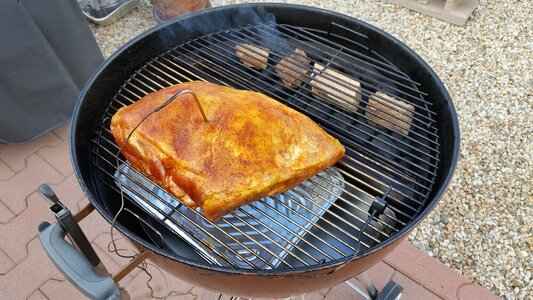 Here's a couple of pics after 5 hours in. No spritzing.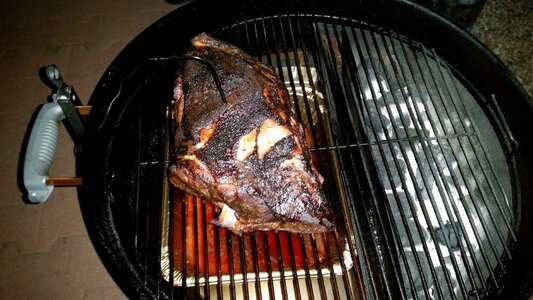 Hit the stall at 167° around 11:30 PM.
Topped off with more charcoal, wood chunks, refilled the water trough, and called it a night.
I never wrap at the stall.
At around 2:00-2:30 AM, the dog wakes me up. She needs to go outside. IT is now at 171° and out of the stall.
Checked on the fire and added a few more coals then went back to sleep.
Got back up around 5:45 AM and go to make a cup of coffee when Mrs. SHS says she can't smell any smoke.
IT is at 189° and
the kettle
is running at 237°.
So I grab a smallish chunk of apple and toss it on so we can enjoy our coffee with the smell of smoke and the sunrise.
It makes for a beautiful morning.
Also, opened up the lid and bowl vents to crank up the temps to 275°
At 7:30ish AM, the IT is at 196° and the butt is probing tender. Time to pull it off.
Added a 1/4 cup of defatted juices to the foil and wrapped the butt and placed it in a towel lined cooler for 2.5 hours.
Here is the finished product after resting in the cooler.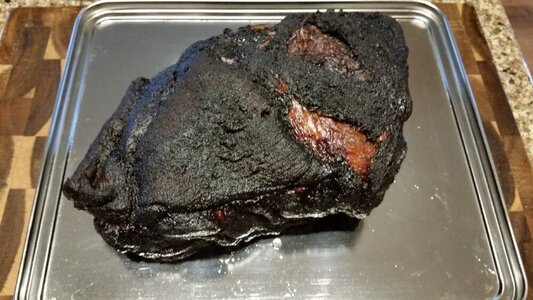 Bone came out nice and clean.
Let's get to pulling some pork and adding back the juices.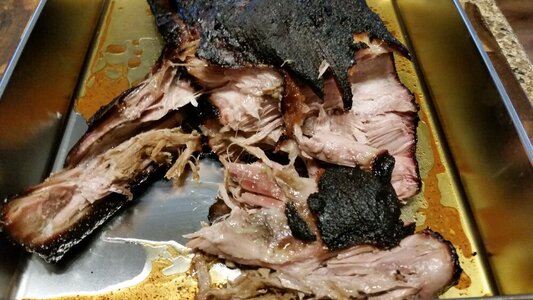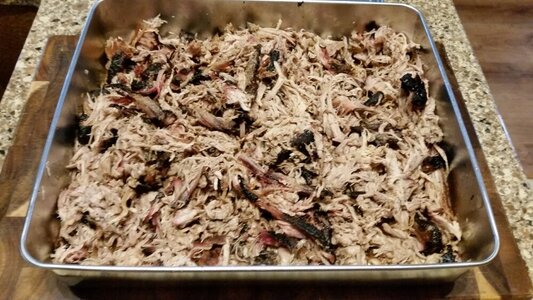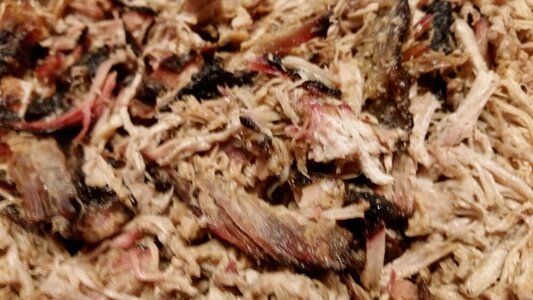 PP sammy and store bought potato salad for breakfast. Yum!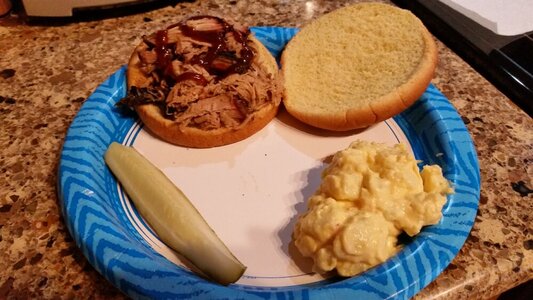 Thanks for looking.
Stu