Smoking Guru
Original poster
OTBS Member
SMF Premier Member
Dessert = Smoked CI Pineapple Upside Down cake, Big single serve dishes
Found a recipe for skillet upside down cake , but I just wanted to make 2 servings ( each dish could be 2 servings in most homes, lol )
All the ingredients together , in a sauce pan melt the butter and brown sugar until dissolved, pour into CI dishes.
Place the pineapple in and a couple pecan halves. Mix up the batter lightly pour in and than off to the preheated smoker at 350 - 360 deg.
With cherry chunks rolling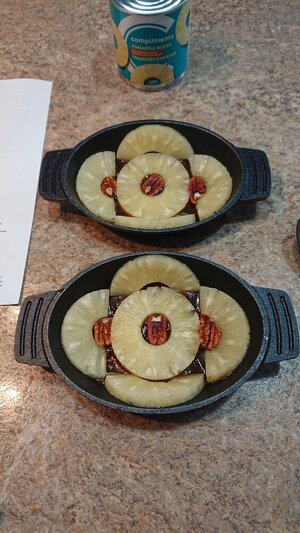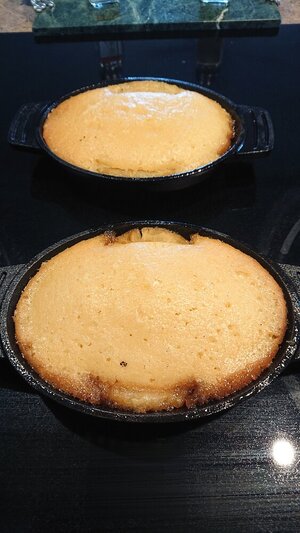 pulled from the smoker at about 50 minutes, or when the cakes when pushed on top they spring back, golden brown.
Bring into the house and let sit for 5 minutes. loosen the edges with a knife and place a plate on top and flip
They came out of the dish perfect, always worried it will break or not want to leave the dish at all. lol
Cut in half to add the Cool Whip for a single serve, who am I kidding i ate 1 myself.
Well there you go, it worked and tasted very nice. Always love me some pineapple and this was a great treat.
The cake is still warm and the Cool Whip is melting , I must go and finish.
Glad you had a look , and it is well worth trying.
David
Last edited: