Epic Pitmaster
OTBS Member
11,107
3,068
Joined Apr 4, 2013
Will post a couple of pictures, but was a bad day for finishing my boudin.
Made and stuffed boudin yesterday, I had a couple of boudin ball with supper last night and really impressed myself.
Got up this AM and checked the boudin in the reefer ( I love that smell), the reefer wasn't cold, at best lukewarm.
Well I am better than that, I can get that 15 pounds of boudin in the smoker early, then instead of letting it set in the reefer cooling, I can go directly into the freezer.
Load my cold smoker with pecan shells, load the tube with apple pellets and went straight to loading the boudin on the dowels to smoke instead of preheating. 30/40 mins later, I had smoke rolling heavy, and a smoker that should have gone to 250 was only at 80 degrees. Smoker was dead !! I couldn't apply smoke because the boudin was wet and couldn't dry. It did not dehydrate in the reefer over night, and it could not dry in the smoker in the short amount of time allowed at slow low a temperature as to be safe with crawfish and rice stuffed in a casing.
I cleaned out the other reefer and took them to it. Had other things more pressing today, one of which was a dying reefer full of beer (the important stuff!), will reevaluate tomorrow.
So here is stuffed boudin.
And all linked up and into the reefer.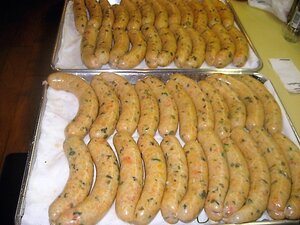 That's a lot of mudbugs there. I believe there should be a crawfish tail in ever bite and I really did not want to loss 'em.
I'll scratch my head again tomorrow, but 15# is a lot to smoke in anything else I have. Besides I couldn't hang them so they could dry.
There is an answer, I just have to think upon it.
Hope to be back tomorrow night with some smoking pictures.
Last edited: