Master of the Pit
Original poster
OTBS Member
SMF Premier Member
I had a little knee surgery yesterday so I thought this past weekend would be a good time to smoke the growing meat collection for some meals. I had a couple boneless shoulders in there I threw into my Briner bucket a couple of weeks ago. I prefer bone in but my original intent was to use them for some breakfast sausage and bratwurst. That never happened. So ham it is. I may not be any good at brisket but I've got this ham thing figured out.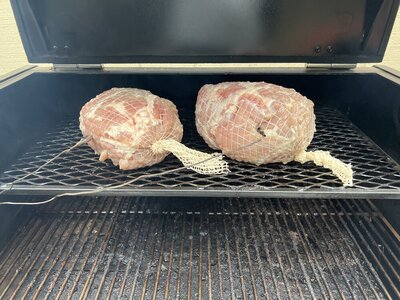 My pigs in a blanket ready to get cozy in the Yoder. I've got to figure out how to hang hams in this beast somehow.
I started them at 165 with lots of smoke. Just for kicks and because I bought another bag thinking I was out, I smoked with 100% Lumberjack Cherry. The color is always unreal. After an hour I increased it to 225 for the ride to an I.T. of 140. And at that point..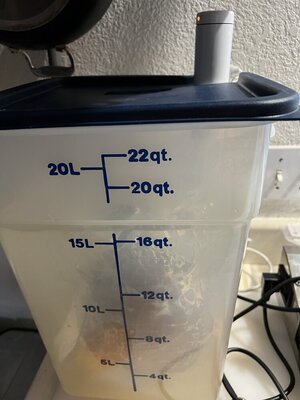 They get vacuum-sealed and take a long pasteurizing bath in the Sous Vide for 4-5 hours. They turn out incredibly tender and juicy.
Then they get to hang out in the beer fridge next to some amazing Russian River brews for a couple days to let the smoke do its thing. One is off to a friend's house tonight. He has 12 kids so there won't be leftovers. The other will have a date with my slicer once I'm off these crutches and can carry the beast.