Smoking Guru
Original poster
OTBS Member
SMF Premier Member
Cornbread Chili Casserole
So I made a big pot of chili Monday night, I know everyone has their go to chili, and the way We/I do it has tomatoes and kidney beans.
And in some circles this would not be called chili. But that is how we grew up with it , and how I love it . So this is not about the fantastic
pot of chili, ha ha
But what I did with it the next day once the flavours built up. ( this was my reg just add and taste pot of food )
What I did not do but normally do ( it was late Monday ) is cook the hamburger in the smoker for more flavour. Mona was happy it was late and not cooked in the smoker.
Because she had 2 small bowls when it came off the stove, god love her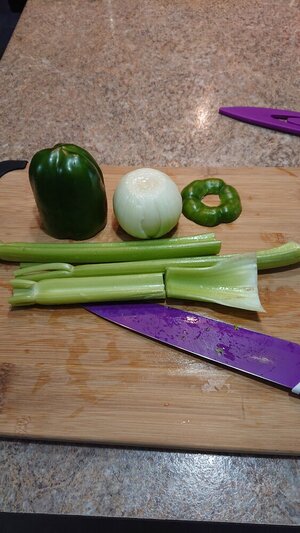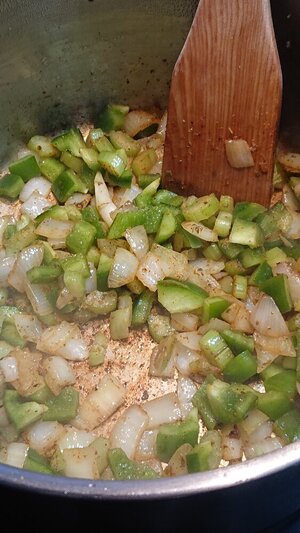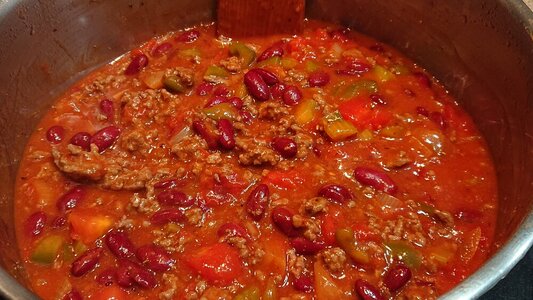 Chili powder, oregano ,Italian seasoning, S+P+G powder, canned diced tomatoes, tomatoe paste, soya sauce annd this and that


So now today after a night in the fridge, bouncing the flavours around in the chili. I got out my little CI dishes I just picked up at the $ store ( $4 each,)
filled them up a little too high. Let them sit on the counter while I make the cornbread.
This is one of the best cornbreads I have had. And I like cornbread. Found it on "Sally's Baking Addiction " with her chili recipe, but like I said everyone has their go to recipe for chili.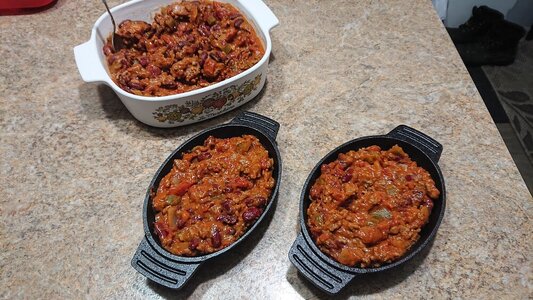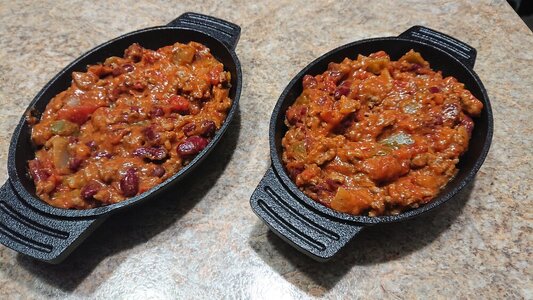 The ingredients for the cornbread, out on the counter to get room temp, breads rolls and the like , mix and blend better at room temp
In a separate bowl I took enough to top the 2 dishes . Than added chopped jalapeno's and cheddar cheese, and the rest was normal so lovie would eat it , lol
Put the rest in a oiled pie plate.
Off to the smoker,
350+/- deg. with Mesquite for about 40 min . Did not bubble over very much. but bubbly good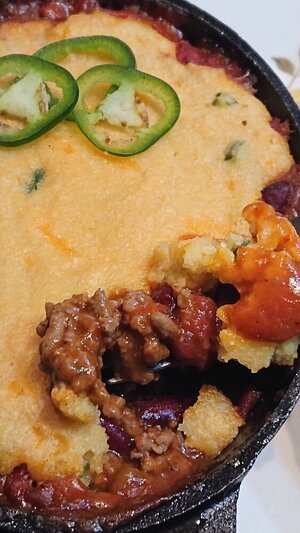 Too good as I ate one while it was too hot , will add the recipe for the corn bread, It made a great topping for the chili, just enough heat in the Jalapeño's and the cheddar cheese was good also, on my next one in an hour or so will top with more cheese. Will add the recipe here also in case anyone would like to try. It is not as crumbly as others , has buttermilk and half cornmeal and half flour . Very nice
Thanks for staying to the end.
David
Last edited: