13
49
Joined Jan 20, 2014
Now, I know, the star of the Texas barbecue scene, and to me, the world scene, is brisket. And to this Georgia native and current resident, there is no better barbecue than a well cooked brisket.
And this is where I need to confess a defect: I am ashamed of the brisket I have made in the past. To be honest, it was the best brisket I had made, but when I ate others' wonderful meat, I was reminded that mine was tough and bland. So, for almost seven years, I have not made brisket.
But for 2020, I decided to make some barbecue resolutions, and one thing I wanted to do was to learn how to make brisket that was comparable to the Boston butt I make.
So, I have been studying and researching, in the hope that I might sometime this year, cook a brisket. In the course of this search, I read a lot and watched some videos by Aaron Franklin. Slowly, he convinced me that maybe I could do a brisket.
And then, one day, my wife and I were at the grocery store, and I was walking down the meat aisle, distraught that the COVID-19 pandemic had meant that good meat could not be bought, and that middling meat was expensive.
Then, I saw the store employee put this in the bin: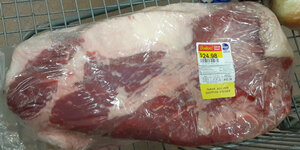 There was a 14 pound brisket, normally $4 a pound, marked down to $25. And it was the only one. I quickly asked the grocer what was up, and he explained that they had torn the package when they first opened that morning, and they re-packaged it, and marked it down. He assured me there was nothing wrong without, and upon inspection, it looked fine.
Okay, sold!
So now I got to put my work to use. I spent some time brushing up on what I learned, and wrote out a plan.
+++
The first thing I learned from Aaron Franklin was to write out my cook plan, and here it is:
Prep
Fire in the hole
Rub
Smoke
Wrap
Cook
Rest
Slice
Enjoy
Prep
Normally I do prep the day of the cook, but because a brisket is going to take 12 hours or so to cook, I decided to start the cook at 6 AM, meaning not only would it be dark when I started the cook, but it would be too frickin early to do it reasonably. So, I took a half hour the afternoon before, to get ready.
I got the smoker set up, with starter charcoal in the firebox, the water pan set, and at least my first few hours' worth of wood - split hickory and cut oak limbs.
Fire in the Hole
So, at 5 AM, I rose and got the firebox lit. After the coals burned down to all white, I added some oak to get the box up to temp, and added hot water to the water pan.
Rub
I admit, this was a big change for me this time. Now, I have used a lot of different rub recipes over the years. But, after researching, I decided to again acknowledge Aaron Franklin's wisdom, and go with kosher salt and ground pepper, although admittedly I added a couple of shots of cayenne pepper.
Note, this is a shot of the rub in process, and I actually did a better job of covering the meat than is shown. (Note to self . . .)
I also learned a lot from Aaron about how to trim. As an example, he talks about how the mechanical trimming of the meat partially cooks it along one side, and this needs to be cut off. Spoiler alert, this makes a difference.
Smoke
Once the smoke box temperature started to get up over 200F, I added oak, and waited for it to get to 250F. At that point, the meat went on.
From there, it's all about keeping the firebox stoked, and the smoke box temperature between 250F and 275F. I know this is hotter than some people do, but I have found it works best for me.
So, for the next 8 hours or so, I keep it running until the internal temp. I inserted the probe in the widest part of the flat, and let it go.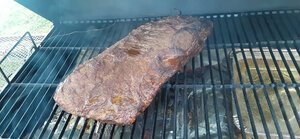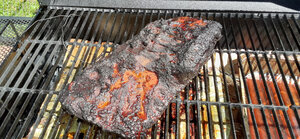 Wrap
After about 8 hours, I wrapped with aluminum foil. Now, I know Aaron Franklin uses parchment paper, and I would have, too, if I had some. But I did not. (And yes, I have since bought some for my next cook.)
It reached a stall at about 165, so I wrapped.
Now it was a matter of keeping it going, and take the opportunity to get a little yard work done. And now I could use my non-cook-worthy wood, as the smoke quality made no difference. It was a good thing, too, as the smoke was ugly and black a few times. But I kept the temp in the 225 to 275 range, and all was well.
I just hope my neighbors didn't think it was still unwrapped.
Rest
Then, finally, after 11 hours and 20 minutes, the 200 degree setting was reached, and the alarm sounded! Off it came!
Slice
I decided to serve the point first, and sliced it thin.
And I have to admit, the burnt ends were perfect.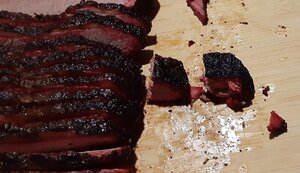 Enjoy
I must say, this was by far the best brisket I have ever made. The combination of simple rub, indirect smoke, hickory, and patience, paid off.
In summary, my review of the Franklin method is that it has redeemed me, in my mind. It's simple, easy to follow, and makes an awesome brisket.