39
23
Joined Aug 29, 2017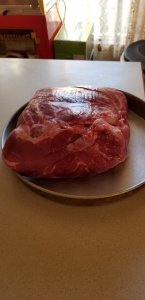 Just purchased a butt myself. getting it ready for my MES 40 inch smoker. I use Griz's pork rub on mine. Recipe as follows if you don't have it. 1 cup brown sugar, 1/2 cup paprika, 2Tbs.back pepper, 2 Tbs each of onion and garlic powder, 1 teaspoon cayenne pepper, 2 Tbs chili powder put in airtight container shake well, and store the rest. I also use a pork butt injection , recipe as follows. 3/4 cup apple juice, 1/2 cup water, 1/2 cup white sugar, 2 Tbs worcestershire sauce, 1/4 cup dark brown sugar, 1/2 cup paprika,1/3 cup garlic salt, 1/3 cup kosher or sea salt, 1 Tbs chili powder,1 teaspoon oregano. put all in saucepan and heat till all is dissolved. What you don't use store in jar in refrigerator.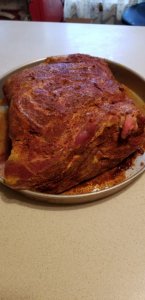 Already for the smoker. Set my MES at 225 degrees, used combination of apple and hickory wood chips for 6 plus hours. cooked for approximately for 13 hours.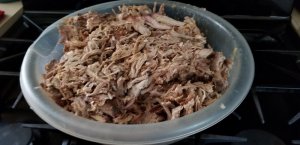 Already to eat except for a good finishing sauce. recipe as follows. 1 cup of apple cider vinegar, 2 Tbs. of brown sugar, 1 teaspoon Tony Cacheres Cajun seasoning, 1 teaspoon red pepper flakes, heat all in saucepan until sugar is dissolved. Makes about 1 cup pour on pork and enjoy. You might want to make double batch and reserve a little more to put on your own sandwich.