Meat Mopper
Original poster
Got a pretty good deal on a pork belly 10 days ago. Had it in the fridge curing for 9 days in a maple sugar brine and smoking today. These pork bellies come with the rib meat still attached which is a extra bonus. This will be double smoked bacon. Near the end I will brush on some Blueberry syrup so I guess you can call it blueberry bacon. Bringing the IT to only 138-142°F as I don't want it fully cooked like ham. After its smoked it will rest in the fridge over night and on to my meat slicer to be vac sealed.
Sitting in the fridge over night to dry off and the smoke will stick to it better.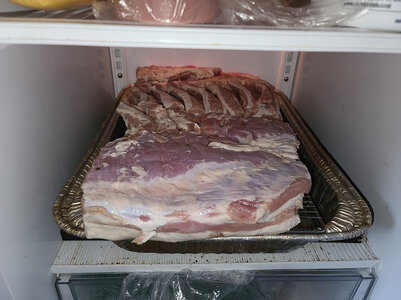 In the smoker and getting its first round of smoke.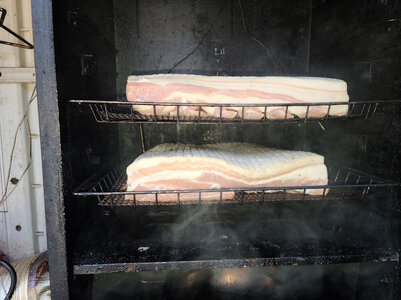 A couple of hours later starting to get some color.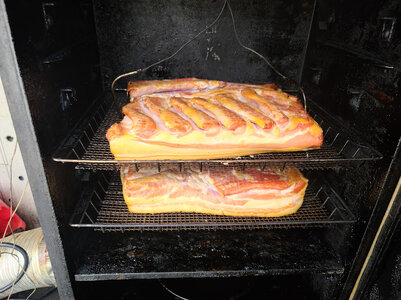 A couple more hours later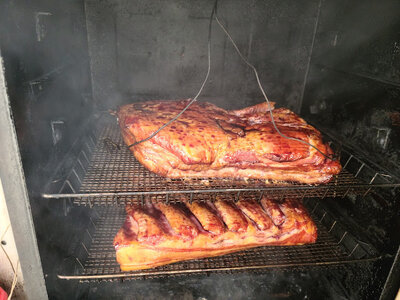 Getting the last couple of smoke after the Blueberry syrup brushing.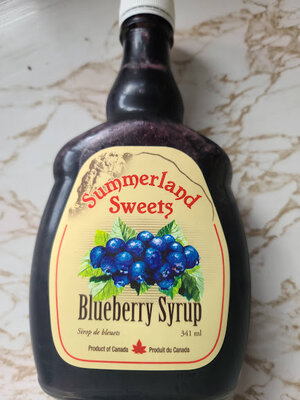 Well that took longer then I expected but the end product sure looks good. Now back in the fridge to stiffen up and sometime tomorrow onto the meat slicer.