Legendary Pitmaster
Original poster
OTBS Member
SMF Premier Member
Soup season is coming to an end, but my wife and I realized this past winter that whenever we ate a hearty, vegetable soup for several days, we were less hungry and ate fewer calories. We'd both lose a little weight eating something we enjoy. And it was surprising that the ingredients didn't make a big difference, as long as there were lots of veggies with fiber. We just finished a Chicken, Potato, Carrot, and Onion Cream soup and we both dropped more than a pound over three days. Nothing else changed.
So, with that in mind, I concocted the recipe below. Before the last of the cream soup was gone, I dug in the freezer and found a tri tip that needed to be used up. You could use any cheap braising beef like brisket or round. Simmer it long enough, it's going to get melt in your mouth tender.
Here's the recipe
Beef and Black Bean Tortilla Soup
Ingredients:
1 lb dry black beans, soaked overnight in cold water in the fridge. Change the water a time or two.
3 lbs cheap beef roast, trimmed of fat
1 large onion
6 cloves garlic, chopped or minced
3 Tbs olive oil (not necessary in a non-stick pan, but habitual. I don't measure)
4 cups beef stock
2-3 cups water
2 Tbs cumin
1 Tbs chili powder
1 Tbs kosher or sea salt
1-2 tsp cayenne pepper (optional)
2 tsp oregano, unless using Mexican oregano, then 1 tsp (powerful stuff)
1 tsp black pepper
1 cup fresh cilantro, chopped (you'll need more for serving)
3 large carrots, sliced thin
30 oz can diced tomatoes
10 oz can Rotel tomatoes, your choice of Original or any of the other flavors
1 lb frozen sweet white corn
Makes 12 hearty servings, with 12 grams of fiber per serving.
Directions:
Soak the beans the night before prepping the soup. I dump them in a bowl, cover with about 2 inches of water, and stick them in the fridge. I'll change the water in the morning, and soak them until I'm ready to use them.
Trim all the fat from the roast and slice the beef against the grain. Turn the slices on their side and cut each slice into halves or thirds, depending how big the slices are. Then cut across to cut the meat into 1/2 inch pieces. Partially frozen meat is easiest to work with. Below you can see why we call tri tip the West Coast brisket. That was a 4.31 lb, untrimmed, choice grade tri tip I paid $2.98/lb. I trimmed 1.404 lbs of fat off the roast, which brings the cost up to $4.42/lb, still a HELL of a lot cheaper than the $12/lb I hear you guys saying back east.
Usually I hit the pieces with about 30 minutes of smoke in the Weber when making a beef soup, but time got away from me, so they went right into the pot.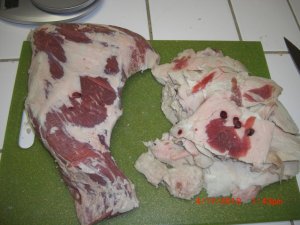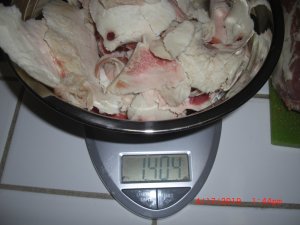 Put the oil in the pot, add the meat, stir to coat, and brown.
While the meat is browning, chop the onion and garlic cloves. Add to the pot when the meat is browned. Stir to mix together, simmer covered until the onions are tender.
Drain the liquid from the beans, rinse in a colander, and add to the pot. Stir to mix.
Add the spices, stir, then add the beef stock. Add just enough water to cover the ingredients. Bring the pot to a simmer over high heat, reduce the heat to low and simmer covered for two hours, or until the meat and beans are tender.
Clean the carrots and cilantro. Slice the carrots and dice the cilantro. Add to the pot, cover, bring back to a simmer, and simmer for 20-30 minutes until the carrots are tender. You won't really taste the carrots, but they add a little sweetness and texture to the pot without adding sugar.
Add the diced tomatoes, Rotel, and frozen corn. Stir to mix. Turn heat to high until it just starts to simmer. Turn off the heat and serve with crumbled tortilla chips, sour cream, and fresh cilantro.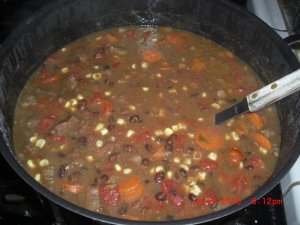 I hear a bowl calling my name right now.
It is an easy recipe that simply unfolds as you make it.
Enjoy!
Ray