Smoking Guru
Original poster
★ Lifetime Premier ★
I'd seen a couple of posts about the hot water crusts here and my curiosity got the best of me.
I found a site called twocupsflour.com that had a recipe.
I didn't care for her filling but I used her dough mix:
1 1/2 cups all purpose flour
1 cup bread flour
10.5 tbsp unsalted butter
1/2 tsp kosher salt (I omitted this)
2/3 cup water
Bring the water and butter to a boil and pour it into the flour mix and knead a little and form a ball. Yes, it's hot.
Weigh the ball and weigh into 4 equal smaller balls.
Roll between two pieces of parchment paper to about 1/8 " and lay in the ramekins (1 cup size), pressing to the sides leaving no gaps.
Trim the excess around the rims and save separately in 4 little balls.
Add your filling. I layered a cheddar mix, cut up baked potato, mixed vegetables with a boullion and water sauce and some browned cut up rib-eye. Heap it up.
Roll out those 4 little balls of dough for the tops. I forgot to use the egg wash to seal but it apparently wasn't really needed.
Bake in a pre-heated 400 degree oven for 10 minutes and drop to 375 for 45 minutes to an hour (or until the crust looks right).
I let them cool for about 15 minutes and they came right out of the ramekins, though I did use a bit of pam in the ramekins.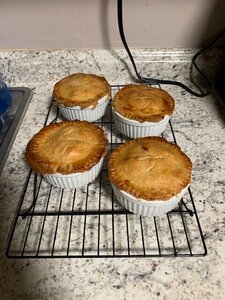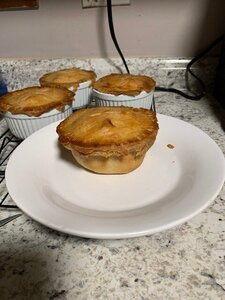 My dinner involved one of the pies with beef gravy, some leftover Mexican Rice and a slice of warmed up and buttered sourdough.
I know, it's motley but that's how I roll ;-)
I was a little leary of using gravy in the filling because I didn't know how it would affect the crust but I don't think it would be an issue.
You could use your imagination for the fillings and this crust is just too simple.
I'm already thinking about what I want to use in the next ones (since I now have four 1 cup ramekins).
Thanks for looking, keep trying new things and have a wonderful afternoon!
Dan