Master of the Pit
OTBS Member
2,654
560
Joined Mar 22, 2013
I got my mom the Harvest Aerogarden 6 pod herb hydroponic planter for Xmas that has been doing great so I ordered the 6 pod Harvest Aerogarden with the heirloom cherry tomato pods. I also ordered the LED panel, a liter of the liquid miracle grow plant food for the hydroponic system and any plants and 50 unseeded pod sponges to grow my own seeds. I have no need to grow my super hots this year since I have a lot dehydrated so the cherry tomatoes will fill the Harvest and Kroger has $1.99 containered herbs that'll go under the panel with other veggies that'll be permanently inside like the herbs or transplanted outside. The panel will supplement light to the Harvest as the tomatoes grow outward. The panel rises from 10"-17" on it's legs and comes with a hanging kit. The 20 watt Harvest and 45 watt LED panel will cost $5.00/mo to run 15 hours a day 31 days a month.
Mom's herb garden from 1.4.20 plant date.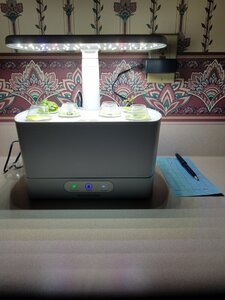 Pic of what to expect from half grown cherry tomatoes.
LED panel for potted plants.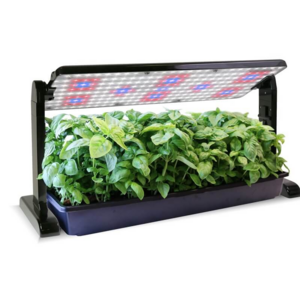 The Harvest has an optional tray with about 30 sponge holders for transplanting for set it and forget it germinating vs the included 6 pod perpetual growing tray. This just solved heat issues when getting seeds to germinate in cold winter months with needing a heat mat. More pics when everything is set up.