844
310
Joined Nov 9, 2015
A friend in South Africa likes making biltong, a form of dried beef, using an old family technique. He simply uses an old cardboard box with a fan to dry the meat, and if needed a 60 watt light bulb for a bit of warmth. It takes anywhere from a week to 10 days to complete the process.
I recently purchased a 10-rack dehydrator and will use that without heat to see if I can make it work. Just finished the preparation and the meat is now in the fridge until tomorrow when it will go into the dehydrator.
Well, the price of beef fell to a reasonable level so biltong is now under way
Ingredients ready: beef, salt and pepper, coriander, and Worcestershire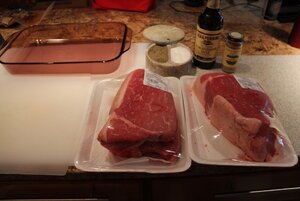 Layering the meat cut about 1/2 inch thick with spices between each layer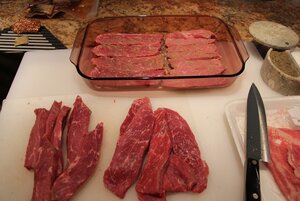 Once all the meat is in the dish, it is pressed down to keep all pieces in close contact with the spices
Tomorrow into the dehydrator it goes.