I thought I was the first guy to buy a welder on a whim and start building fire pits. Hahaha. I'm graduating to building a smoker and decided on a reverse flow. I took a lot of cues from Allen's Welding on YouTube. Lots of great ideas. Got measurements from
http://www.feldoncentral.com/bbqcalculator.html
. I've been collecting scrap steel for a year now and had the base material for a 48" cook chamber. Overall measurements are 48" x 24" cook chamber with a 24"x18"x18" fire box. I'll be building it on legs/wheels with rack space below for wood/etc. I didn't get a lot of pics from each step but here are a few in the process.
Welded up the cook chamber. 8 x 48"x10" pieces. All welded at 45º:
Cleaned up the welds:
Attached the fire box and welded up the ends of the CC. Leaving the ends of the FB open until I get the opening into the CC cut out.
Legs welded up. Going to add cross bars close to the bottom and attach wheels. I'm thinking I'll get the grate height to about 38"
Door cut in the CC. I used a plasma torch to cut the top and bottom cuts all the way across. I left the side cuts partially attached so I could put the top flange on and attach the hinges without fighting the weight of the door. I'll add the other 3 flanges and gaskets next.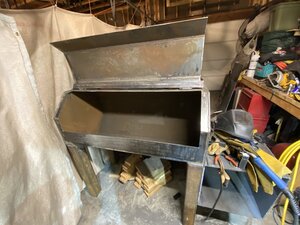 Making wagon wheels out of 3" sections of 10" steel pipe. Gotta clean these up and get the paint off but I'm liking the look. I built 4 but I may only use 2 and put locking swivel casters up front. Unless anyone has an idea how to make these turn?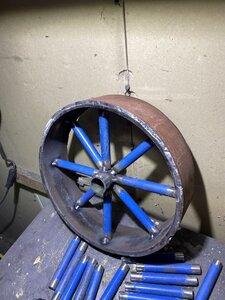 Next up is cutting the hole between the CC and the FB. Then the RF plate and racks. I'd love feedback/thoughts. Having a ton of fun and made a lot of progress in my first week of corona virus seclusion! I'll keep the updates coming. Feel free to make fun of my welds, messy garage, etc.
Last edited: