Master of the Pit
Original poster
SMF Premier Member
First, totally inspired be

jcam222
. Slightly different and definitely smaller.
So, I haven't had real pizza in a very long time. Wife will not eat the crust, so we have cauliflower crust pizza, if it can really be called pizza. The only similarities in my book is you drink beer with both of them.
Changes I made:. 10" ci, and I only needed 2 lbs of sausage. Used mama Lil's peppers, and cut the bacon big so it had similar size profile to the pepperoni. Because of the size of the pan, I only needed 2 layers. I was all set to add third layer, and thought, more peppers, more cheese would take up all the remaining space.
Because of it's size, it will not need 2 hrs, probably 1.25, we will see I will pull at meat loaf internal.
A few pics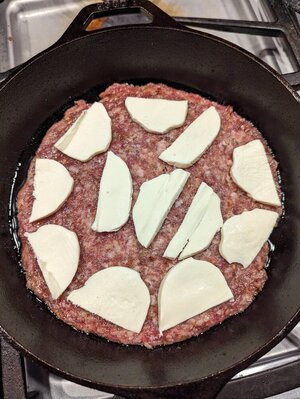 It's not in the oven yet, will show when done with a cut shot.