A long time lurker and reader.... I posted this over in wood smokers but thought it might be better suited for this area.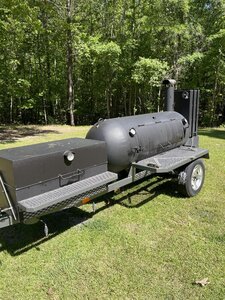 About 15 years ago I bought a Lang model 60. Kept it for a year sold it for what I had in it and bought a larger 84. Both have been excellent smokers. The 60 was my favorite, just too small for what I need.
That said, the 84 cooks wonderfully but has some design issues I've never been particularly fond of. Primarily, The upper rack impedes full length use of the bottom rack, rack spacing, bottom rack doesn't slide out, small door opening and short upper rack.
We recently cooked 260 Boston butts for a fundraiser at church and I got fairly irritated with the arrangements inside the grill and decided I wanted to add cabinet style, widemouth doors to my Lang.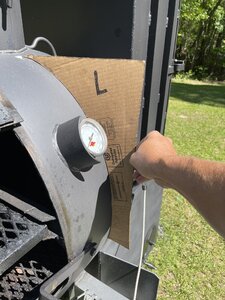 I had some 3/16 diamond steel plate and have started making double door boxes for each side of the cooker.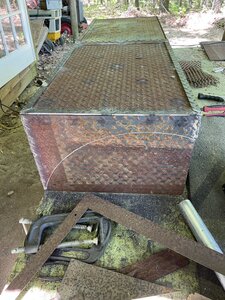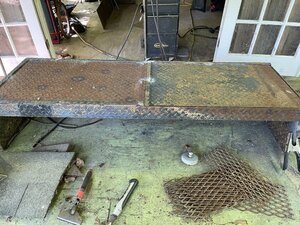 Now that i've gotten close to cutting the Lang open and mounting the boxes, I thought before I made it to the point of no return, I would seek advice and thoughts from any experienced builders.
I know it will increase interior volume slightly but I can't see it being an issue? or maybe I'm wrong? I've run the Lang through the smoker calculators and according to most of them it falls short in several areas like stack length, firebox dimensions and firebox to cooker opening (that one may be debatable because of the way it's done)
My original plan was double cabinet doors on both sides of the cooker but is it worth the extra time and effort to put doors on both sides or just a solid back on one side and doors on the other? I have the materials so I figured why not.
The cabinet boxes are 61 inches long by 19 1/2 inches tall and will stick out from the top of the smoker about 12 1/2 inches and the bottom roughly 3 inches
The pictures are not great but hopefully you can get the idea.
I welcome advice or comments as to how well my plan is thought through, design or unexpected pitfalls along the way.