Yesterday was a sausage smoking day for me. Did 22 pounds of my Texas Hot Link / Texas Hot Gut sausages!
Here is qview and then the write up.
Pics (in casings, peeled and chilled sausages, cut and vac sealed, and finally eating some for lunch with mustard).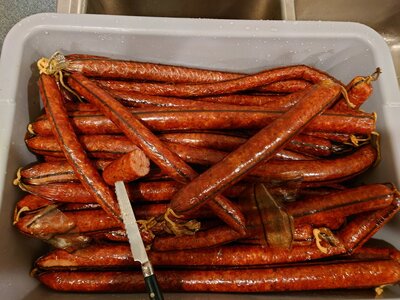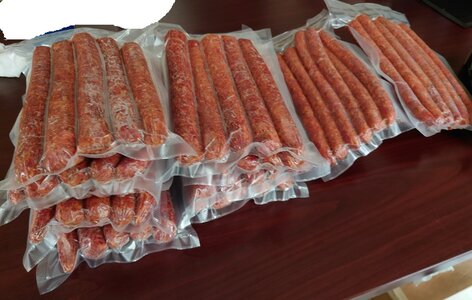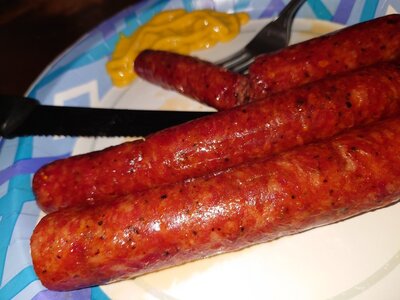 I ground the meat a while back. Yesterday I mixed, stuffed, smoked, vac sealed, and then made a quick plate for lunch.
Started about 3pm yesterday with the mixing and stuffing and pulled em out of the smoker and had chilling in the garage fridge around 4:30am today. Just finished cutting, vac sealing, cleaning up, and having a little bit for lunch with just some mustard.
Smoking Details
Smoke: 70% Apple, 30% Hickory (Lumberjack pellets) applied for about 5-6 hours (2 rows of AMNPS) in my PID controlled MES40. Hung on dowels with homemade sausage smoking mod/add-on.
What makes them Texas Style? Mixing beef and pork and then some of the seasonings.
22 pounds went into the smoker!
Recipe: I worked this great flavor into shape and the recipe/ingredients are listed here https://www.smokingmeatforums.com/threads/texas-hot-link-sausage-qview-hot-gut.309730/
Taste: AMAZING!!! I prefer them a hair hotter but I worked down the seasoning to this point so people could get good heat without being too much and maybe even the heat sensitive can enjoy 1-2 bites before they get too bothered by the heat.
Skinless sausages. Casings are cellulose (plastic) to make skinless dogs. Big sausage size and a few hot dog sausage size. I wanted to use up a little left over of the hot dog size I had.
Thanks and enjoy, I know I will! :D
Last edited: