Master of the Pit
OTBS Member
SMF Premier Member
1,474
1,380
Joined Mar 8, 2017
I concocted this recipe, using indaswamp's boudin recipe as a base. Started off with a 7 lb brisket point, rice, green & red peppers, garlic, celery, onion, chicken livers, parsley & green onion. I smoked my brisket on Saturday, and got up Sunday morning and put everything together.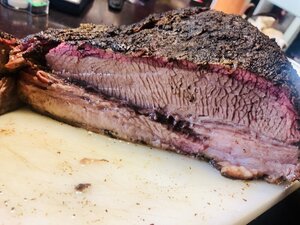 The smoked brisket. I primarily used the point as it was a fattier cut, but I ended up using some flat meat as well.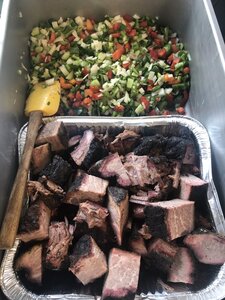 Meat all cubed up and most of the veggies chopped and ready for sautée.
My initial plan was to use a drip pan, so that I could add some of the rendered juices back to my sausage mix. I guess I just got lazy bc that never happened. In hindsight that was a good idea, I think I'll do that next time for sure.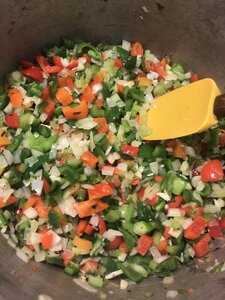 Peppers, onions, garlic and celery cooking down in bacon grease.
Chicken liver added to the sauté. I used chicken rather than pork liver bc I wanted a milder liver flavor. Really happy with that aspect.
Here it is all cooked down and ready to cool off a bit before I add the rice and green onion.
Now, I added some dry seasonings as well as green onion to the above pics . I used 4 cups rice, 15g cayenne pepper, 5g white pepper, 10g garlic powder, 10g onion powder,7g MSG & 65g salt. I used 10 bunches of green onion tops.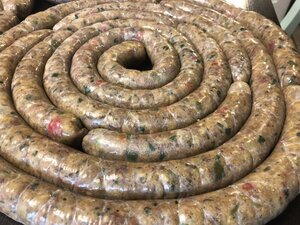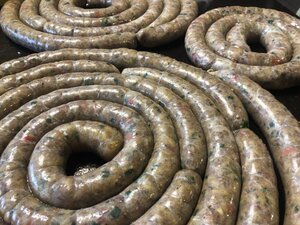 I soaked these casings for several days and this time was able to stuff my sausages a lot more. Really happy with how they came out.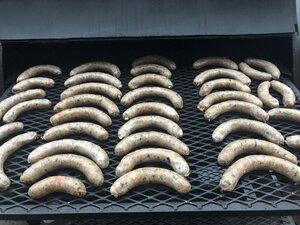 And here they are ready to be smoked. I used hickory lump and cherry chunks. Ran 150-175 first two hours then bumped it to 200 for the third.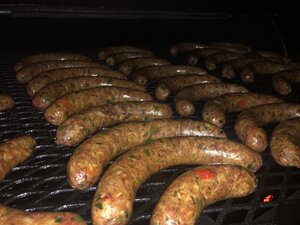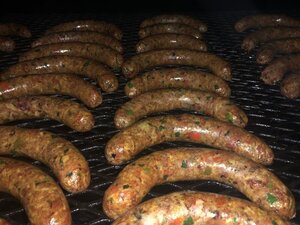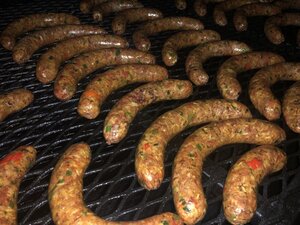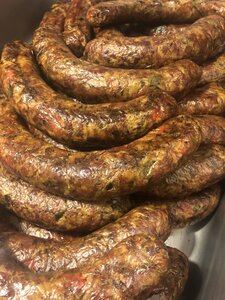 The color these took on was amazing and the smoke flavor was awesome. Maybe a tad on the dry side but I'm being super critical. Not bad at all.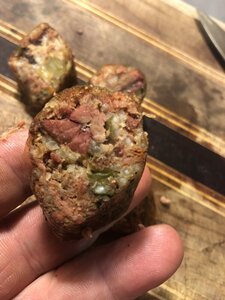 Great texture and good bit of heat level. Casings had a great snap!
Last edited: