Master of the Pit
SMF Premier Member
2,127
1,979
Joined Aug 1, 2018
After 3 not so great attempts at rye finally got a good one. Huge thanks to Bob,
bregent
for getting me through this! Also did my regular one. Took few days to get starter up to speed as it been couple months since fed it.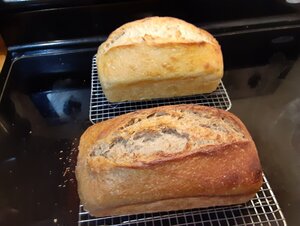 Also got some mash going. Love this color from some blue corn. I have 3 different types of Inkbird thermometers and none work very good around induction. My old Mavericks never had a problem. Ordered some new probes for them. Been a busy morning!
Last edited: