Master of the Pit
OTBS Member
SMF Premier Member
1,418
1,289
Joined Mar 8, 2017
I've had this vision to convert my Fatboy into a sausage smoker, sans racks. Well it finally came together this week. I took out 15 lbs of venison, and decided to make a home made smoked sausage. I added 6 lbs of brisket trim, and 9lbs of combination pork shoulder and bacon ends. I also picked a ton of jalapeños from the garden, roasted 5 heads of garlic, picked a bunch of fresh parsley and added to that the following list of seasonings: garlic powder, onion powder, cayenne, black pepper, cure#1(6tsp), paprika, salt, turbinado sugar, all spice, mustard & fennel seeds (toasted and ground). Also used nfdm & nola blond beer & 1lb each of habanero & cheddar high temp cheese from Walton's. Here are a few pics I took along the way. All of this was done with my kitchenaide grinder & 5lb LEM mighty bite stuffer.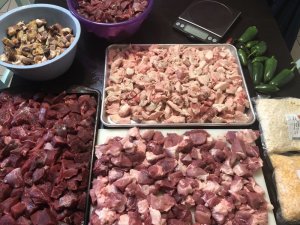 My venison, pork, brisket trim, jalapeños, bacon Ends and cheese. Since my equipment is small scale, I did it in batches and cleaned as I went.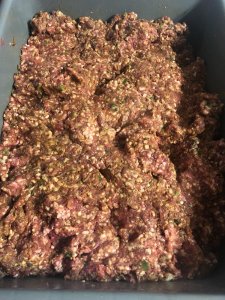 I even mixed the meat, seasoning, etc in batches to get even distribution.
Fry test was delish. Could taste a nice balance of flavor and heat. Very much liked the way the high temp cheese handled as well.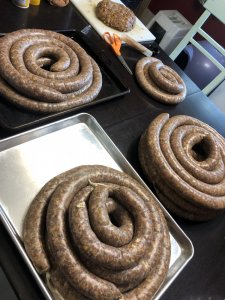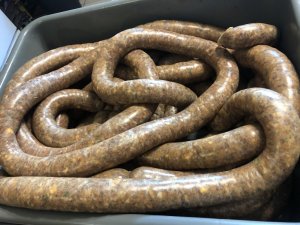 Next day was stuffing and smoking day.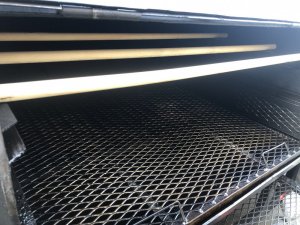 Three wooden dowels I bought at Home Depot yesterday, didn't even have to cut them, they were stock 48", perfect length.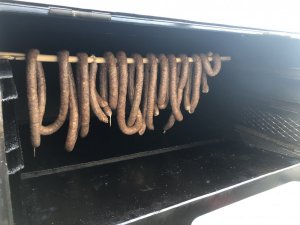 I ended up taking all three racks out , and only needed two dowels.
I ran the sausages for about 2 hours before adding any smoke. That really helped dry them out. Temps were low, about 125 degrees most of the night. I used pitmasters choice in my
amazen smoker
for about 6-7 hours. I didn't pay attention to the internal temps, because tonight I'm going to finish them with another round of smoke and low (but slightly higher) temps.
Really REALLY happy with the results so far. Color and smell are amazing. The sausage seems to have really taken the smoke.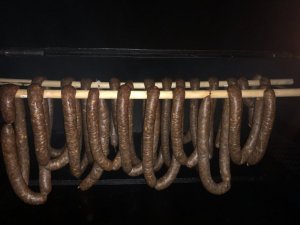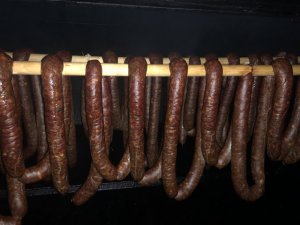 I'll take some pics of the finished product later on tonight.