Smoking Fanatic
Original poster
Good, but...tried something different hoping for that sort of braised results.
Turned out a little chewer than I was hoping for. Though really not bad and flavor, was good.
Planned a long term meal, as I had so much stuff to gobble down already made. So sous vide ribs 31 hours at 135 f.
Pulled from bath and straight in fridge. Couple days later, got
the kettle
going and threw them on. Seasoned with spog. Kept temp around 200 2to 250. After half hour lathered with a modified bulls eye bbq sauce.
Took IT to 140 f.
Not sure If I will do it this way again..
Served with fries and onion rings.
Was seeing if practical to make these ahead of time for one of the family events.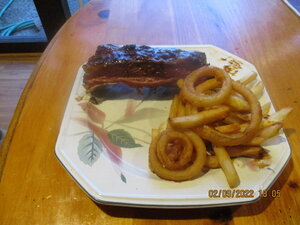 Single rib, as you may notice meaty. The first one was one and a half ribs.and you can really see depth of meat.