Smoking Guru
Original poster
OTBS Member
SMF Premier Member
Group Lead
So I let the neighbors know I was getting the
Tractor Smoker
out. They brought me 2 briskets, a slab of ribs, and a whole pork loin... For myself I had a pork picnic, slab of spares, and a slab of baby backs ...
OK.. so I get up at 5:30 am to fire the smoker up so I can get the briskets on early ... Fire it up with 4-6 splits to get it up to 350 or more... When splits burn down to coals I spray the inside of cook chamber with a shower from the water hose... Well... When I open the cook chamber door I see that I forgot to take out my little square spade shovel and my long handled cleaning brush (that's where I store them)... The shovel HAD a plastic handle and the cleaning brush WAS all plastic....
Needless to say that all the plastic had melted down through all the grates and onto the reverse flow plates...
SOB I yelled ... There is nothing worse than trying to get melted plastic that turned back hard when it cooled, that wrapped around the wires of each grate...
So getting in a hurry cost me an extra hour of clean up time... but then also the time to bring the smoker back up to temps ...
Here's what's left of the brush (was about 2' long) and the shovel handle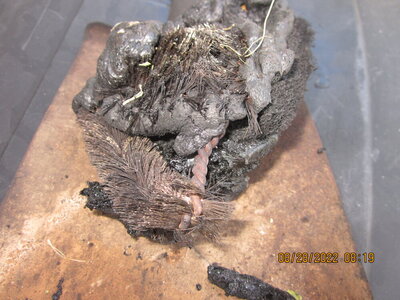 Wish I woulda got a picture of the plastic dripping through the grates ...
After getting it all cleaned up and loaded
It all turned out good in the end... BUT ...
As Kingsford said in their commercials... ''SLOW DOWN AND GRILL''
PS. I didn't get any complaints of tasting like plastic ...