Legendary Pitmaster
Original poster
OTBS Member
★ Lifetime Premier ★
Oct 17, 2016
9,408
10,199
Reese's Cups



Peanut Butter Mousse

2c powdered sugar

2c creamy peanut butter, natural peanut butter or commercial that has been lightly heated

2t vanilla extract

2c whipping or heavy cream

Combine all ingredients in a mixing bowl and whip until stiff peaks form

Refrigerate for 2 or more hours to firm up

Dark Chocolate Mousse

1/2c Hershey's Special Dark Chocolate powder

1-1/8c white sugar

2c heavy cream

2t vanilla extract

2t unflavored gelatin

1/8c cold water

1/4c boiling water

Combine gelatin and cold water, stir well and allow gelatin to soften for 10 minutes

Add boiling water to gelatin and stir well, allow to cool a bit, very warm.

Mix the chocolate while it cools

Combine chocolate powder and sugar, mix well, add cream and vanilla, whip till it forms stiff peaks

Add gelatin and mix well, hold in fridge for at least 2 hours to firm up

These two recipes combined makes seven to eight 8oz mason jar servings.

Layer into dessert cups, can add salted peanuts.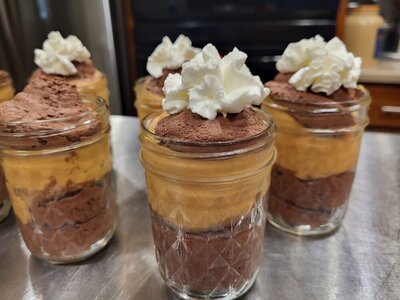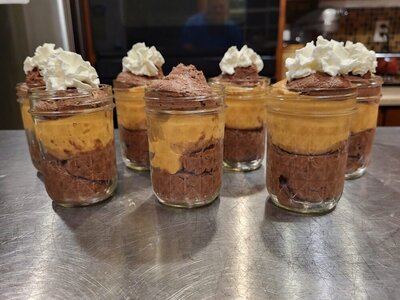 Last edited: