Master of the Pit
Original poster
I like a good Cubano sandwich, always in search to try sandwiches. I read a post last week by FishandBeer where he made a pork belly in the cuban style.
Cuban Melts
I happen to have a belly in the freezer so I'm going to do some cuban style sandwiches for dinner tonight. this evening. Radio Gal and I are camping in Florida this month. I had a Costco carver ham in the refrigerator. These are great hams for slicing, the taste is great and not too salty. I smoke that ham a few days ago for super bowl sandwiches. Call it a double smoked ham, basted is with a glaze made with butter, brown sugar, mustard, cloves, pepper and some cherry-blood orange jam. Sorry no pictures, but that ham is so good double smoked.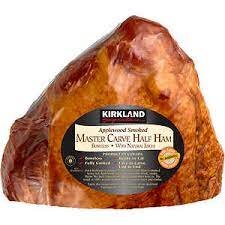 Costo boneless ham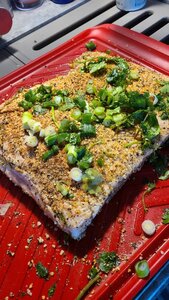 Pork belly rubbed with fresh minced garlic, scallions, cilantro, lemon and lime zest. quick dry rub made with pepper, garlic, salt, cumin, cayenne. Applied rub yesterday and let those fresh flavors blend for a few hours in a zip bag on the counter. Afer a few hours I put a bottle of Mojo marinade in the bag and into the refer to soak overnight.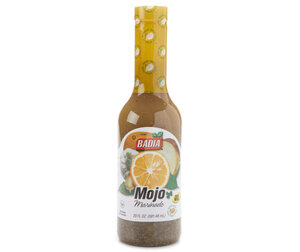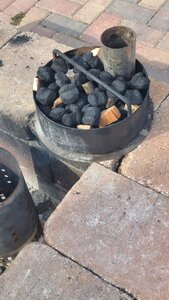 Pit barrel
Jr charcoal basket, I load it with Royal Oak hardwood briquettes, and scatter some of my hardwood chunks. Cherry, apple, hickory. I use a 3" piece of exhaust pipe to separate a void for Lit" coals. I light 4-5 coals and put them in the pipe and use tongs to let the fire loose. Have the Pitmaster stoker set to 260F.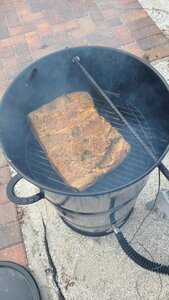 Belly on, fat down for first hour.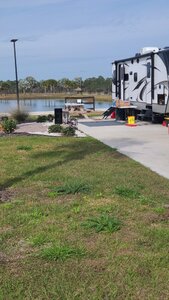 View of our campsite. Loving retirement more each day!
Last edited: