Epic Pitmaster
Original poster
OTBS Member
★ Lifetime Premier ★
Dec 14, 2013
14,621
12,601
I ran across this while looking for something else . Found it on the King Author baking web site . Sounded interesting , so I gave it a shot .
500 g Bread flour
500 g water
3/4 tsp instant yeast
2 tsp salt
1 TBLS olive oil ( for the pan )
Mix everything together in a bowl .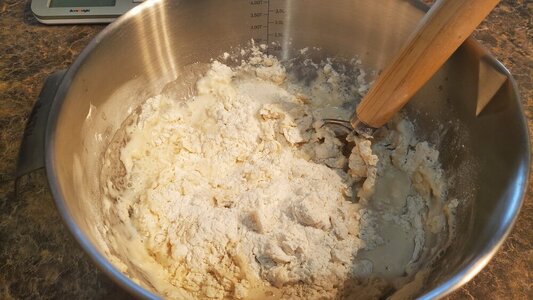 Gonna be sticky .
That Dough whisk came in handy for this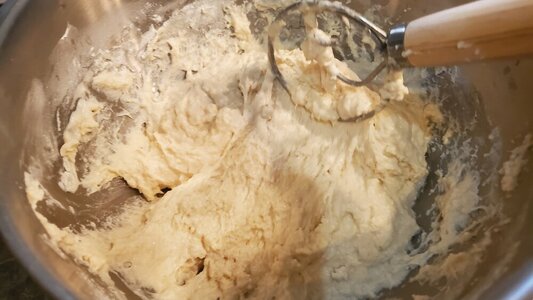 All mixed .
Get a 10 x 7 pan . Glass works best , and add the olive oil to the pan .
Don't be shy , and get some up the sides .
Pour the dough into the pan , and let it spread out .
Wet your hands and help if needed .
Take the temp of the dough in the middle . You want it around 75 degrees .
That's the temp of the dough , not the room .
Cover it and let rest 20 minutes .
Looks like this after the rest .
At this point do the first bowl fold . You'll do this 4 times .
Wet your hands and grab the dough by the edges and fold into
the middle .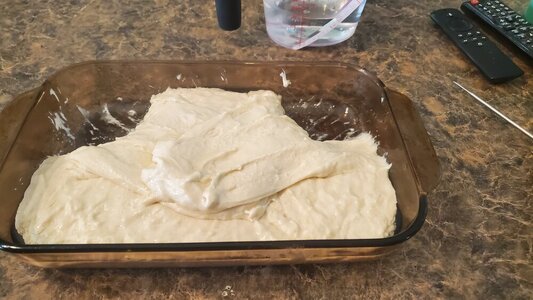 All corners folded in .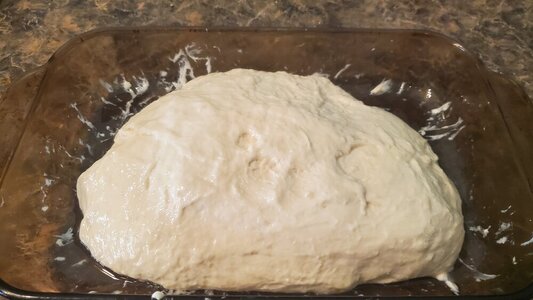 Then flip it over . Re cover and rest another 20 minutes . Then repeat
another 3 times . Resting 20 minutes in between folds .
I did a total of 3 folds . This was after the final rest .
Starting to come together .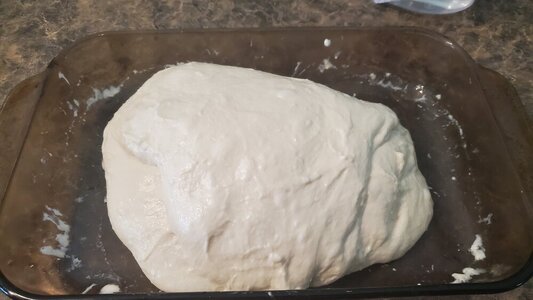 Now it's time to stretch and coil fold . You will also do this up
to 4 times . Wet both hands and grab the dough by both sides of the middle and
pull straight up . Let it fold over itself , turn 90 degrees and repeat . Cover and rest 20 minutes , then repeat .
This was my 3rd and final stretch . You can see how the dough stretches . The first 2 times took
both hands . Came together and I was able to snap a picture if how it looks at this point .
All stretched and coiled on itself .
You can see bubbles starting to form .
Cover and rest 80 minutes . When the time has passed , cover the top with flour
so you can turn it out on a floured surface . Don't miss any spots ,
and don't deflate .
Flour the surface heavy , and dump the dough out .
Square it up the best you can , but don't punch it down .
Take a bench scraper or a sharp knife and rip in 2 along the length .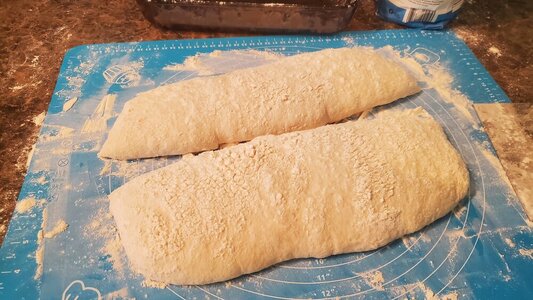 Then cross cut each half into 2 pieces .
Transfer to parchment paper and let rest uncovered for 2 hours .
Pre heat the oven at 475 with a baking stone for 1 hour before the
bread goes in .
Place the stone in the bottom 3rd of the oven . Bake the bread on the stone 2 at a time for 15 minutes ,
then move to an upper rack for another 15 or until it's done . These are like pillows . You'll need
a peel or rim less baking sheet to move .
First 2 baked off .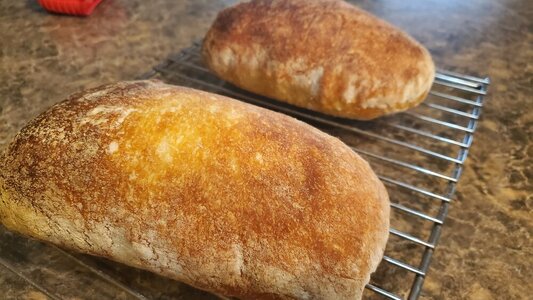 Got all 4 baked off and resting . I didn't temp these , just went by
looks and smell . Hollow sound when tapped on the bottom .
Bottom looks good .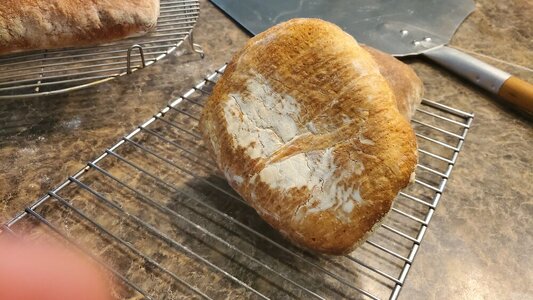 OK . Fully cooled and finally time to take some slices .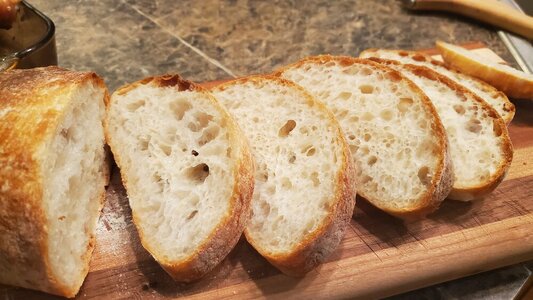 This seems like a lot of work , and it does take some time , but it's really worth it .
This came out fantastic . Great chew and texture . Has a fermented pizza dough taste to it .
Doing this again , no doubt about it . If you're interested in trying it the video on King Author baking
will show all the steps . I would suggest watching it .
This got long , so thanks for looking .