Master of the Pit
Original poster
OTBS Member
★ Lifetime Premier ★
Good day all. I was wondering what to make for dinner when the wife pointed out that we had burger buns, mushrooms, and thawed burger in the fridge. So my brain started turning and I thought, hey!, Mushroom Swiss onion smashburgers. I made a mushroom gravy. (Recipe at end of post) I made 3 oz burger balls for the burgers. Sliced some onions wafer thin and set out to the Blackstone griddle. Here is my finished product. These were stone cold delicious. I had to stop myself from eating two.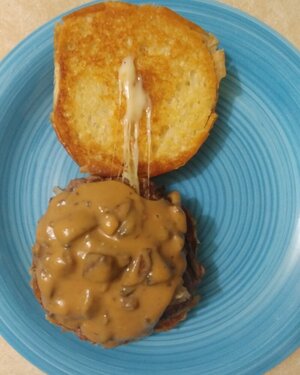 Mushroom Gravy:
8 oz mushrooms - chopped into small pieces
7 T butter
1/3 c Flour
1 c Chicken broth
1 c Beef broth
2 T Ketchup
1 T Worcestershire Sauce
Garlic powder
Black Pepper
Using 5 T of the butter and the flour, make a roux. Sautee the mushrooms in the remaining 2 T of butter; add garlic and black pepper to taste. Whisk beef and chicken broth into the roux then add mushrooms, ketchup and Worcestershire sauce. Stir on heat until thickened. This gravy will be quite thick as it needs to hang onto the burger. Enjoy.
JC