SMF Hall of Fame Pitmaster
OTBS Member
SMF Premier Member
25,249
2,857
Joined Nov 12, 2010
Thank you all for starting new bread threads... Finally caught my eye AND I dug out the bread making machine... Some of you may have followed my "Not so good attempts" at making bread from scratch... Horrid thing it was...
The machine makes awesome tasting bread... So now I have somewhere to put all that bread flower... No weevils in the flour... It's a plywood sealed cabinet 5' above the floor... Lucky me...
First was a standard Italian loaf.... In the machine now is a 1/3 whole wheat loaf with rolled oats, molasses, dry buttermilk, dry potatoes, and an egg.... supposed to be some sort of potato roll dough... It's now a potato loaf... I really like potato rolls and bread... Will see what's up when it comes out...
Thanks again... I'm gonna balloon up like a poisoned pup eatin' all this fresh baked bread... and those cheese cakes I been makin'.... Iffin I had me some fresh strawberries, like they got in NOLA, I'd put some on my bread and cheese cakes...
Later... .....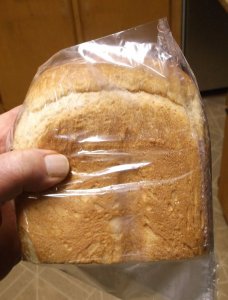 BTW, this bread maker is a Panasonic about 35 years old... AMAZING .....
Thanks again for the
NEW DIRECTION
to wander... Dave