Master of the Pit
Original poster
OTBS Member
SMF Premier Member
I just spun my first turkey. After injection and 24 hours in a brine, it was time to spear this little bird and throw it on the KUDU. I've done chickens but nothing this big. After bouncing around a bit and stopping for a couple readjustments, it settled in for 4 hours on the spinner heated by some local seasoned California Live Oak. I put the wild rice and mushroom stuffing and the acorn squash under the KUDU dome for about an hour.
It turned out (pun intended) to be the best big bird I've ever made. This will be our new tradition. However, I will not put the stuffing in the smoke, though, as it was too much, even after I covered it after 20 minutes into the cook. But that bird! Wow! It was so crazy tender and flavorful.
I put it all on a single platter since it was just the two of us this year and I took a fancy picture for the GRAVY throwdown but totally forgot to do the code word thing. Haha! Maybe next Thanksgiving.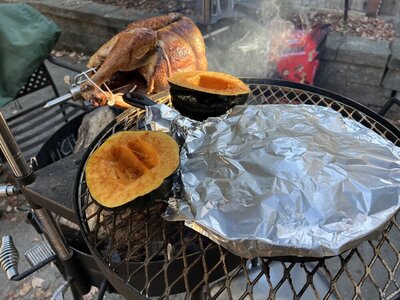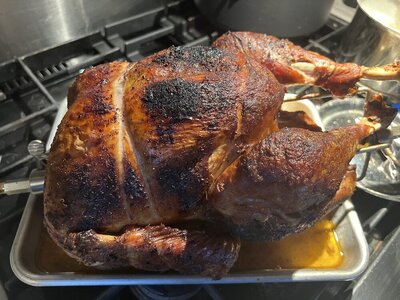 Resting before carving.
Super crazy tender and so much flavor.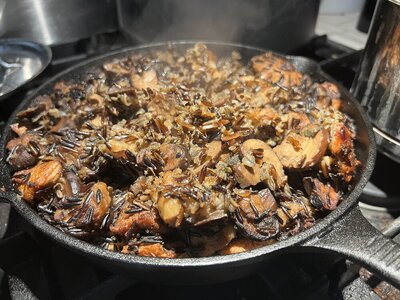 I won't smoke stuffing again. Maybe it needs to mellow like smoked cheese or bacon? I'll find out tomorrow after it sits in the fridge overnight.
Well, this would have been my Gravy Throw Down picture but I forgot to include the code word because I was too excited to eat. Oh well, it was worth it. I broke my diet for this today and it's going to take me a week to get back on track. I'll just hike and swim longer tomorrow.