Smoking Fanatic
SMF Premier Member
843
721
Joined Dec 1, 2019
After reading through
THIS
thread I had to give this technique a try, I'm a big fan of injecting for flavor, and have used injectable brines and cures with good success, so Dave's method for injecting a curing solution was right up my alley. I followed the recipe exactly and stayed very close to the technique. My results were fantastic. Here are the ingredients and the ratios I used: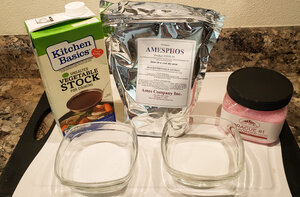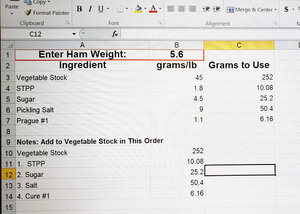 I mixed everything together in order using a shaker, and injected almost all of the mixture. The remainder was added to the curing bag. I did a daily overhaul
The skin was removed and I did trim some loose tags of meat.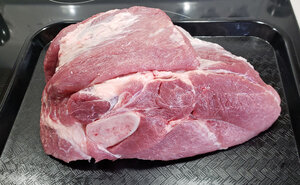 I cured my ham for 11 days, rinsed and did a 2 hour soak out changing the water 3 times. I allowed 24 hours uncovered in the fridge to equalize and form the pellicle. On smoking day I got started early while the temps were in the low 50°s. I was able to keep my Big Chief in a warm smoke zone between 90° to 110° for 6.5 hours. Then I ramped up the temp to 140°, then to 160° over a couple of hours. Next I moved the ham into a 200° Big Green Egg to get the IT up to 165°.
Here is my initial set-up and ham going into the smoker at 5:00am I did bind the ham with some cooking twine to set the shape.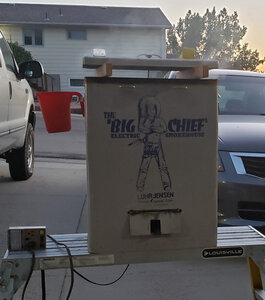 Here is a view from the Ham-Cam 4 or 5 hours into the warm smoke.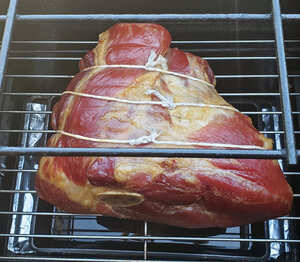 This is in the 200° Egg, The ham really plumped up as the internal temp rose, actually leaking juice in a couple of spots.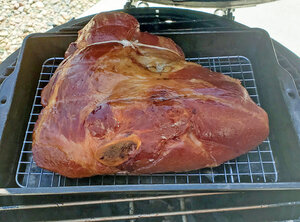 When the IT was 155°, I covered the pan, and in 20 minutes the internal was up to temp.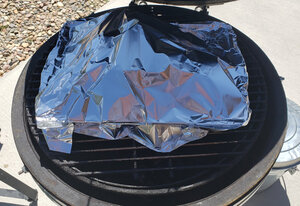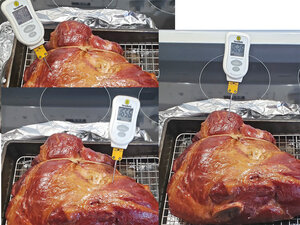 I rested again in the fridge for 20 hours, then took some sample slices from the shank end, and warmed up some more for breakfast a couple of hours later.
Here is what I liked: The technique really is "easy peasy", and a zipper bag takes up way less room than a plastic bucket. The salt level is mild, which is perfect for us. The vegetable stock truly adds and enhances the overall flavor (I never would have guessed that). The moistness was very noticeable, and the color, texture and tenderness are what a ham should be like. Just like Dave said in his post, I don't see any reason to adjust anything, although I might break my smoking into two days like I do on bacon. My impressions so far is that this ham tastes like it came from a specialty meat producer, it's defiantly not a mass produced "city ham" variety. Next time I need to find a picnic in the 8 to 9 pound range.