Master of the Pit
OTBS Member
SMF Premier Member
1,917
1,996
Joined Mar 8, 2017
I've been in the woods a lot the last few months, but in December things really start to heat up. I get so wrapped up in our deer season, it's really all I think about. My dad is 78 & I am 47; we share a lease with about 15 other guys and have been hunting the same land since 1973. We've killed some big deer but the water gets us a lot, as we are right on the Miss River and it floods every year. It's hard hunting to say the least but that's what makes it so special to me.
Fast forward to last week. I really started to feel like I was getting close. I was seeing a lot of bucks, and they were getting bigger. I had a massive 8 point that I would have been happy to take, come up behind me and catch my wind, which is almost impossible for where I'm hunting. I'm boating in to a spot I found about 4 years ago. I call it the lost stand because I got big time lost one day, and was trying to figure out where I was when I stumbled across a spot with so much deer sign I marked it, and have been hunting it ever since. When the wind is blowing back to the lake, it's poison. But those big deer ain't stupid and they can usually still figure out a way to find out someone is in their bedroom!!
I pulled several SD cards last week and one particular spot had multiple shooters, so I honed in on that area and got aggressive. Our rut is in mid December, I know from experience it gets fire hot, but not for long. This Saturday the wind was perfect, so I went to the lost stand to hang tight for a big one. I hunted all day, never saw a single deer. Very rare for that spot but it didn't discourage me one bit. I went back to camp for a quick bite at noon, took a shower and went back after em at 2pm. Was in my stand by 2:45, and I have until 5:28 for legal shooting. Never ever make it that late bc it's hard to see in the woods much past 5:20.
well from 2:45 until 5pm, I never so much as saw a hair, but at 5 I started hearing what I though was a deer in the thicket in front of me. It was a really nice 8 with great mass. I wanted to take him so I got in position, placed my .270 across the rail of my ladder and laid my binos across my scope. I kept seeing his antler tips but he never came out of the thicket. By about 5:15 I realize it probably ain't happening tonight, then I hear some grunting, and start seeing does all out in front of me. I know there is a buck close by so I'm scanning with every ounce of focus I have, when, I see a big bodied deer pop out of that thicket in front of me, and he's on an angle coming to me. It's now about 5:20 ish and I can't even tell what he's got so I put the binos on him and all I see are antlers. I went right into kill mode, got the crosshairs on his shoulder and at that very moment he stops, and I can see him looking right at me through the scope. Somehow he saw me, and I never moved an inch. I remember saying "don't miss this deer" and then I squeezed off a round. I saw the muzzle blast through my scope but I also saw that buck tear off. As I was bolting another round I heard what sounded like a big, big crash. Scanning the horizon w my binos, hoping to see a body, I saw nothing. I had to make a decision so I got a good Mark of where he was, climbed down and went to the spot of the shot. No blood no hair but that happens a lot so I began to walk to the sound, which isn't too easy, I have no idea at this point exactly where that was but I'm searching hard around tree tops, when right at 5:24, I see him. He's down. It's not been that long but it seemed like forever. I knew he was a good one but it wasn't until I walked up on him that I realize I've got "splits" a buck we got on camera last week. Biggest deer I've ever taken in my life. 150" plus 12 point with double splits on his right G2s & G3s. I could not believe it. I marked him with my GPS because I knew I wasn't going to be able to get him to the lake bank, boated back to the launch where one of my good buddies met me, and we went and got him with my Honda Pioneer, through the woods. Relatively quick recovery as we had him loaded up by 6:30. I am still on cloud 9, and to top it off my car broke down on the way home! Hey ain't nothing worth doing comes easy, right!?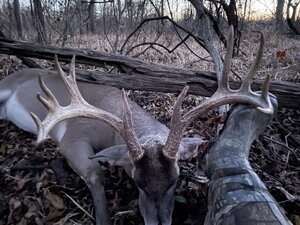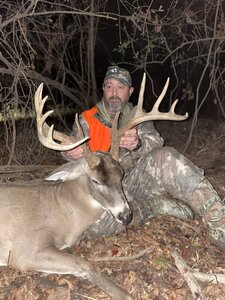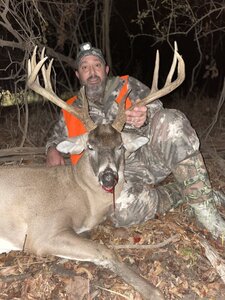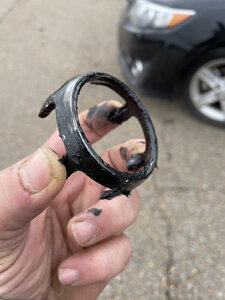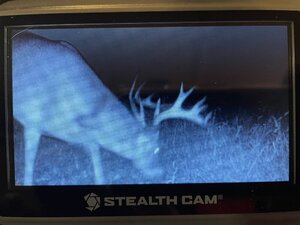 Last edited: