Epic Pitmaster
Original poster
OTBS Member
★ Lifetime Premier ★
Dec 14, 2013
15,123
13,383
I started out to grind up a beef packer brisket for ground beef . I had a vac pack bag of pork butt chunks in the freezer , so since the grinder was gonna get dirty I got those out too . Figured I would do another couple pounds of the Pickle loaf I just did .
Turns out the chunks were really fatty , So making something all pork was out . So I had the brisket grind and and the fatty pork butt .
I looked at some Marianski stuff and did a combination of spices I like , mixed the pork and beef and used 26mm sheep casings .
One time through the 1/8" plate wasn't enough to break down the beef , so I ran the mixture in the food processor to break it down some more . Spices were
Black pepper
white pepper
onion powder
nutmeg
paprika
ginger
garlic
Correct amounts of salt , cure 1 , and Sodium Erythorbate .
This was 2 1/2 lbs. of grind , and I'd say about 40% pork fat .
I always add the water and NFDM as I mix . Only adding what it needs to come together . I never follow amounts listed in a recipe for liquid or binder . Came together without adding any NFDM , but after adding more liquid to emulsify I ended up adding 1 1/2 TBL at the end .
These were way more fat than I normally use . The end result was a Sunday afternoon at the Baden Fest in October . Not a whole lot to look at , but they were spot on for the sausages I've had at Octoberfest street parties and Grandma's house when I was a kid .
These are intended to be poached . To delicate to survive a grill without splitting .
I keep my sheep casings stored wet , same as the hog casings . Following the thread put out by Boykjo .
Stuffed ,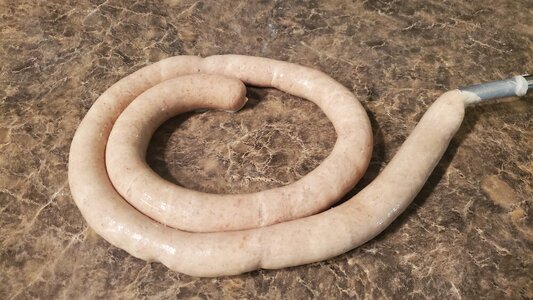 Linked ,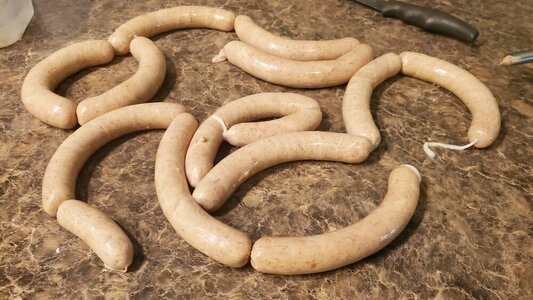 Right into the smoker set to 120 for 90 minutes , then steps to 140 .
Smoke for color with beech pellets .
Poached on the stove at 164 degrees .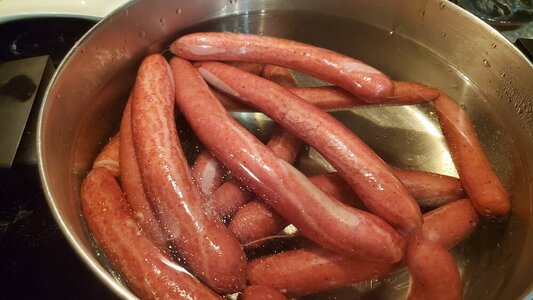 Checked temp at the 25 minute mark . IT was 154 . Perfect .
Roughly 2 hours in the smoker , 30 minutes on the stove .
Done .
The streaks are from condensation after opening the door and letting 30 degree
air in . No biggie . They will go away after blooming .
I didn't water bath . Normally I do .
Blooming on the counter .
Cooled down cut shot .
After a night in the fridge I had some for a late breakfast / early lunch the next day .
Had to try both ways , and show one that was heated up in simmering water .
Plumps right up .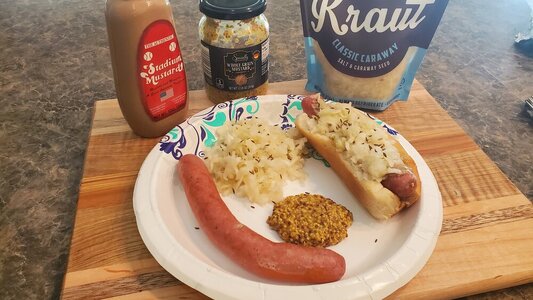 Heated up cut shot .
These were really spot on . I don't usually like the texture of beef in sausages , but the high amount of pork fat
countered the grainy texture you can get with beef .
The taste , texture and snap of the casing were surprisingly perfect .
Thanks for looking .