Smoking Fanatic
Original poster
★ Lifetime Premier ★
Howdy!! Been a while since I last posted and I actually have something new to post. I ended up with a 7 lb pork belly so I thought I would give Cold smoking a try. I usually do a hot smoke but since everyone keeps saying Cold is the way to go, I thought I would try. Did alot of reading and I think I got it right.
The Belly: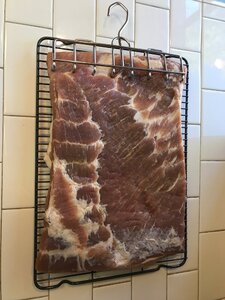 Cured for 13 days. Used Cure #1, Salt and Maple sugar. Rinsed it off and let it set overnight uncovered in the fridge. Looks like a nice and meaty piece of belly.
Hanging in the smoker: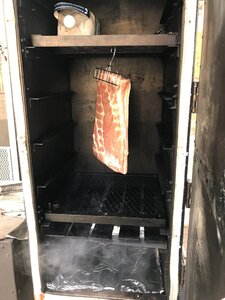 Added some smoke: I put in a frozen water bottle in an effort to moderate the temp. I think it helped a little bit.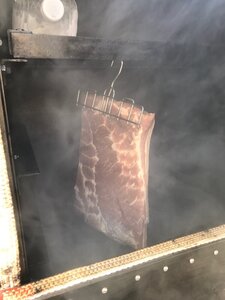 As I do with my hot smoking, I use the
AMAZEN
tube: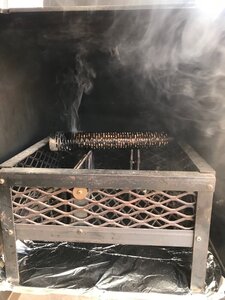 This is the first time I am using my big smoker for in this way. Usually, there is a fire in the firebox and the tube is in the smoke chamber. Sealed up and running....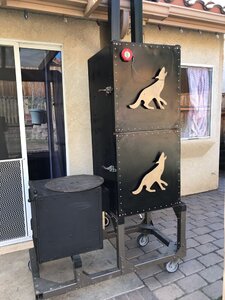 For today, I let go for 8 hours. Temp started at 68 F and got as high as 81 F, which was pretty much ambient temperature in SoCal today. After 8 hours, I ended up with: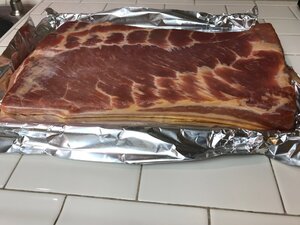 It is now bagged and in the fridge for an overnight rest. I plan on doing another 8 hours tomorrow and letting set for about 2 - 3 days before I slice and fry some up. Smoking meats is really an exercise in patience!!!! I was surprised that the belly stretched a little from hanging, and it was fairly dry to the touch.
I am looking forward to doing a comparison between the hot and Cold-ish smoked bacon. I wish it were a little cooler here but I get what I get!! I will update with progress tomorrow (and the finished product. Thanks for looking.
HowlingDog