Master of the Pit
Original poster
OTBS Member
SMF Premier Member
Last weekend I finally got around to smoking my first brisket. I won't relive that experience here. Although the point was perfect, the flat was not. I learned long ago that chili will forgive all your sins. Given the amount of brisket I had I needed to break out the big 8-quart roaster. I threw in a bunch of stuff like hatch chilis, tons of onions, ancho chilis, spices, tomatoes, etc. For good measure and added beefiness I added a quart of good beef broth. Into the smoker it went for 8 hours, uncovered, under some wings. After eating a sampling cup for seasoning purposes I put it into the fridge because we all know chili is way better once it chills out a couple of days in the beer fridge.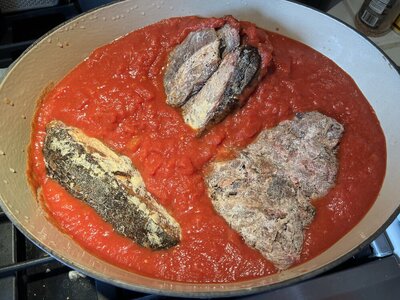 In goes the still-frozen brisket chunks.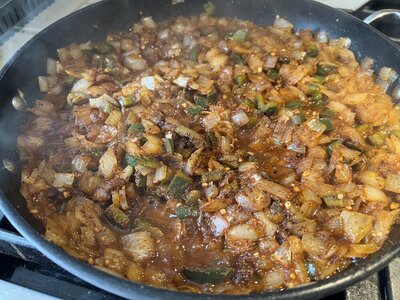 The next layer are the onions and chilis.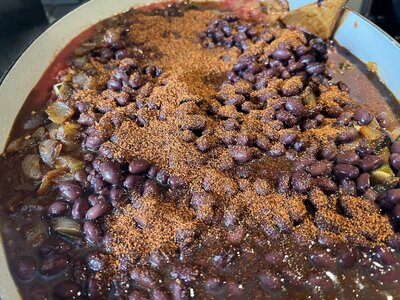 Then come the beans and spices. Meat Church Matt despises beans in chili ironically "forgetting" that chili purists would balk at his use of tomatoes. I'm no chili purist and I love them both.
Under the Angel wings they go. These wings were seasoned overnight with Frank's Red Hot Dry rub the night before.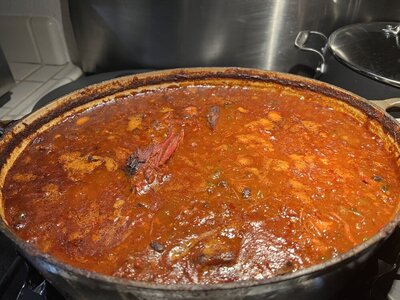 The result was an obscenely meaty chili. There's almost an entire smoked brisket swimming in this. Tonight I'll make some Alton Brown cornbread smothered in honey butter. I'm a happy camper.