Smoking Guru
OTBS Member
★ Lifetime Premier ★
6,218
3,209
Joined Dec 30, 2016
Question. This mod removes the controller and turns the unit simply into a toaster. My question revolves around the separate wood-burning element. The controller, at present, allows you to vary the intensity of the smoke element from off to 5 with 5 being the highest.
I looked on the masterbuilt website and couldn't find an MES40 that has a separate wood chip burning element. No matter, electricity and heating elements are simple.
I have not personally looked at your model of smoker but my guess is that the current wiring runs power to that chip element just like the main heating element.
The dial switch is what controls it to be on and at what power level (1-5).
Not having torn one of those apart to investigate I would bet money you would be ok even with the rewire.
My other guess is that if they did any additional wiring for that chip element, that it would likely be wired in at the same spot where the simple rewire happens.
After all, the spot where the simple rewire happens is the area where power comes in from the power cord and is then distributed to all other areas of the MES.
If there are separate wires there for the chip element, you just wire nut splice them into rewire change you are already making.
In this case power would go from plug to heating element AND to chip element.
Here is a rough wiring diagram to give you the concept. It is literally this simple of a wiring:
Oh I almost forgot. Even if you lose the wood chip burning element there is a far superior approach to provide smoke. Almost all of us MES guys use it.
There is the A-Amaze-N Pellet Smoker (
AMNPS
) tray or tubes.
They burn wood pellets or wood dust to produce perfect Thin Blue Smoke with no fooling around with it once it's going!
The tray will produce smoke for up to 12 hours, again no fooling with it. The tube is like 3-4 hours.
A bag of wood pellets lasts FOREVER so cost of wood is low.
So now you can abandon feeding chips every 30-45 minutes!!!!!
Want to smoke a pork butt or a whole packer brisket? Set it all up and let it go over night while you sleep. Use a digital remote thermometer and set alarm to tell you when to check if the meat is tender and done, or to alert you if a flame up has happened and the smoker got too hot, or if the power or smoker is failing and the temp gets too low. In any case you sleep and the alarm lets you know what to do next.
Guys who don't do the rewire still use an
AMNPS
. You lose nothing if you lose the wood chip burning element so I wouldn't worry about it. None of us have a wood chip burning element and we produce out of this world BBQ all the time.... in my case often while sleeping like a baby :D
Here is a picture of the
AMNPS
so you know what I'm talking about: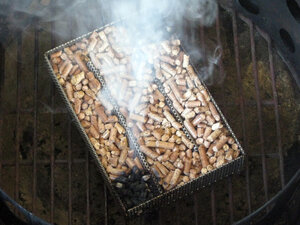 Last edited: