Hello everyone,
I've been raising and eating my own lamb for a few years now. Until this year, everything went straight into the freezer. But this fall, I read about Fenalår, the Norwegian dried leg of lamb, and decided to have a go at it.
An 8-month old ram was butchered a few weeks ago and I had a wonderful leg, 2.75 kg, ready for curing (I'm giving everything in metric, being Dutch...). 3 days dry-salting and after that a cold rest for a week. Everything was done in my shed, at about 4°C (it's just above freezing for the past weeks here). Then it was time for the leg to dry (weight was 2,44 kg by then) but I wasn't sure where to hang it. I read ideal temperature would be between 6 an 16°C, but all I had was my shed at 4° or my basement at 18° (the wood burner that heats our house stands there). First I hung it in the shed, but after 2 days it was still wet and I feared that it would spoil, so it went to the basement. It has been there for a week now, looking good, but when I weighed it, it was only 2.12 kg. That's well over 10% weight loss in a week! I didn't expect that. Obviously, the fact that it's drying is good, but isn't this too much? Shoud I be glad and leave it in the basement or would it be wise to return it to the cold?
I'll ad a few pictures: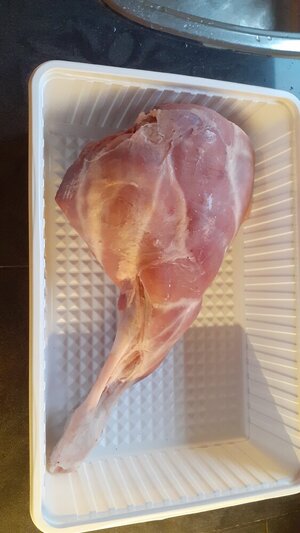 Fresh
in the salt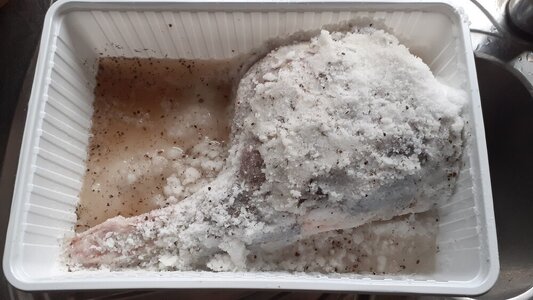 after 3 days in the salt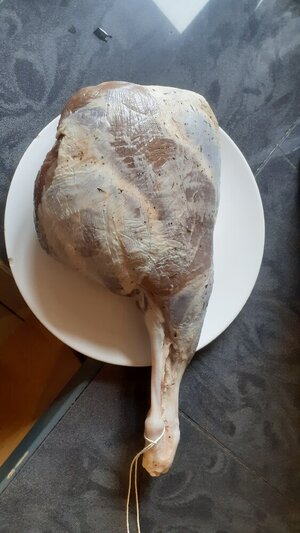 ready to hang after the cold rest
And how it is now.
Thanks for your advice!