Epic Pitmaster
OTBS Member
SMF Premier Member
10,956
2,761
Joined Apr 4, 2013
Dontcha hate when ya wake up early and know you'll not go back to sleep?
Well couldn't find doughnuts yesterday which only made me want 'em more. So to sp;ve that as well as the lack of buns for hamburgers for supper. I got out the bread bowl.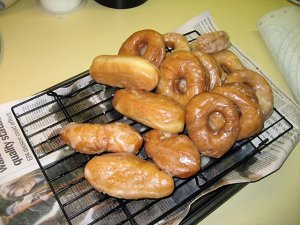 They are not Krispy Kreme but they are pretty tastee!
Buns.
They'll look better........
I was out of sesame seeds. Seems I am out of everything...>LOL
My smallest dough recipe made both. So it was a win/win.
Any questions just ask. I am pretty sure I have posted the recipe in prior posts but ,,, well just let me know if I can help.
Its 93 degrees outside in the shade and I make bread, I am becoming senile!