So this is a long one. My first build, and I started off small. Hot plate in my Weber Performer, wood chips in a cast iron skillet, using an iGrill 2 to monitor temperature reporting back to a Raspberry Pi which then controlled a smart plug.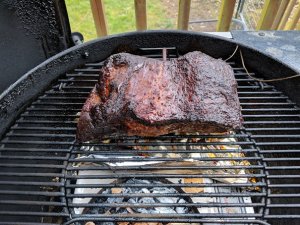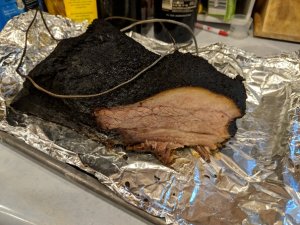 I was trying to use what I had on hand and had something that was OK for under $50. I quickly discovered using a single burner of the hotplate was not ideal so I moved to a two burner solution.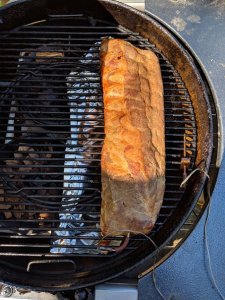 Wife complained the results were still sub par, temperatures were all over the place. I had from day 1 setup a way to graph my grills at
https://www.kins.dev.
So I sat down and thought through a new system. The problem with the smart plug was that I couldn't change every 10 seconds (or less) for better control. (It would wear out the relay in all of 2-5 days.) Well I have some electrical engineering background, so I started to design a solid state relay board.
Six revisions later
(one unpublished) and an obscene amount of testing, I finally had something that works nicely. But the grill setup still was a little cramped. So I picked this up for $80 as an end of the season special: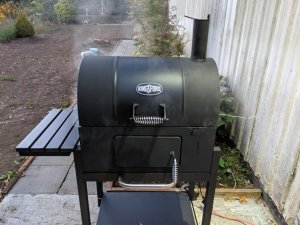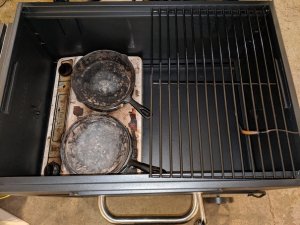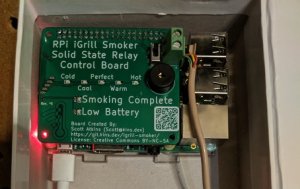 My first run with this setup encountered a problem with my code about 18 hours in with a pork shoulder. I found and fixed the error in my code, but apparently I burned out the solid state relay at the same time. Moved from a 25A to a 40A relay, used JB Weld to patch some holes in the grill, painted it and seasoned it again.
Now for the questions: I currently use a cast iron skillet and an anodized aluminum pot for holding my wood chips. Both are ash at the end, but the pot seems to go slower. Is it better to use cast iron for this (1 quart dutch ovens) or aluminum?
My ramp up time is slow, is that a big deal? (~ 1hr to get to 225.)
I have schedules where I increase the external temperature based on the internal temperature, has anyone done that before? What are the pros/cons of this approach?
Finally, I'm new here, so if I put this in the wrong spot or did something wrong, please let me know.
My code is free to use/improve:
https://git.kins.dev/igrill-smoker
I'm continuing to work on it.