Smoking Guru
OTBS Member
SMF Premier Member
★ Lifetime Premier ★
5,572
2,359
Joined Dec 14, 2013
Just a quick post . I messed around with some chicken parts last week . Came out ok . My fault , knew what I did wrong . Saw a couple of the guys used the recipe in the book with good results so ,,,
Last night I followed the recipe in the book ( use that as a guide . then do what you know ) The buttermilk chicken . Came out great . Instead of the cereal I used a pretzel coating . Dot's pretzels . They make a seasoned pretzel stick , but also have a coating mix . Everything else was about the same . Did not plan on posting , but here's a couple of pics .
Plated up with some waffles , maple syrup and Franks wing sauce on the chicken .
Cooks the chicken really good . Tender and moist .
Temp was between 170 / 180 ish .
Post plated pic . Looked like this out of the air fryer '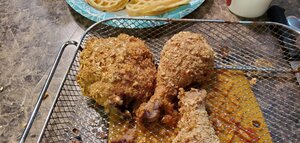 That recipe in the book is a good one .
Great piece of " fried " chicken .